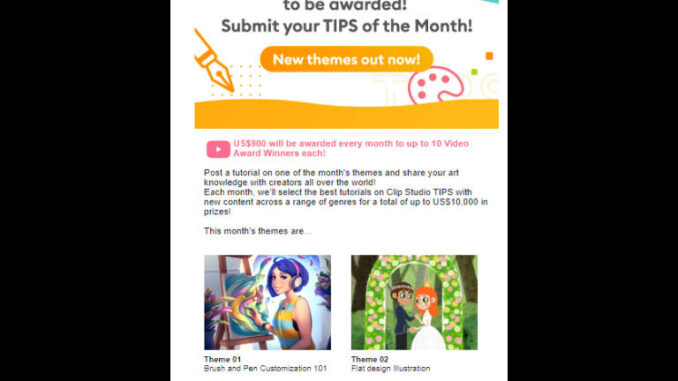 November 2022 Clip Studio Paint tutorial themes are out.
Read the press release
Now accepting tutorials for TIPS of the Month
Post a tutorial on one of the month's themes and share your art knowledge with creators all over the world!
Each month, we'll select the best tutorials on Clip Studio TIPS with new content across a range of genres for a total of up to US$10,000 in prizes!
This month's themes are…
Entry period
November 1 — 30, 01:00 UTC
Theme 1
Brush and Pen Customization 101
#BrushCustomization101
Clip Studio Paint veterans, show newbies to Clip Studio Paint how you mastered brush and pen customization. From easy tweaks to more comprehensive redesigns, break it down so that anyone can customize their own tools to use right away in their own work!
Theme 2
Flat design illustration
#FlatDesignIllust
Flat design illustrations are made simply by combining different shapes and colors to create a comprehensive piece. Show us how you go about creating your own storybook-style flat illustrations using Clip Studio Paint. Extra points if you can show us how you decide on a unified color palette and how you use the form to produce abstract works of art!
Link: https://www.clipstudio.net/content/tips/en