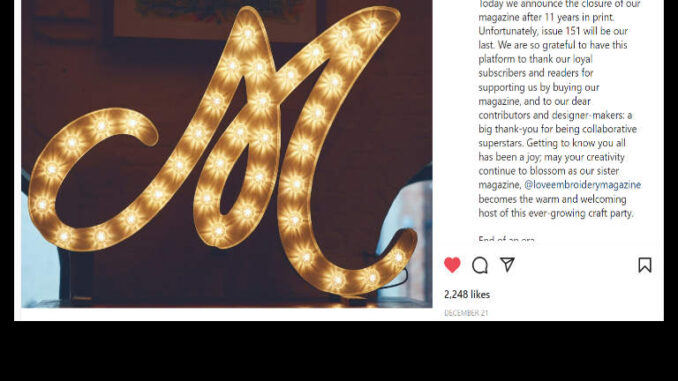 According to a post by Immediate Media, its magazine titled "Mollie Makes" will end with issue 151.
Read the press release
Dear Mollie Makers,
Today we announce the closure of our magazine after 11 years in print. Unfortunately, issue 151 will be our last. We are so grateful to have this platform to thank our loyal subscribers and readers for supporting us by buying our magazine, and to our dear contributors and designer-makers: a big thank-you for being collaborative superstars. Getting to know you all has been a joy; may your creativity continue to blossom as our sister magazine, @loveembroiderymagazine becomes the warm and welcoming host of this ever-growing craft party.
End of an era.
Keep crafting!
Team Mollie 🫶
P.S For crafting ideas and inspiration beyond embroidery follow @gatheredmakers
ℹ️ IMPORTANT NOTICE ABOUT YOUR SUBSCRIPTION
What happens to my subscription?
We are pleased to advise you as a valued subscriber to Mollie you need do nothing. If you have issues remaining on your subscription, your details will be transferred to our sister publication Love Embroidery. If you already have a subscription to Love Embroidery the remaining number of issues left from your Mollie subscription will be added to this title.
If your subscription to Mollie magazine is paid for by continuous Direct Debit, there will be no disruption to your subscription delivery to Love Embroidery and you will still be covered by your Direct Debit guarantee. The price you paid will not change. We will be writing to you separately to advise of the new payment schedule.
Who can I speak to about my subscription?
Should you have any queries regarding the transfer of your subscription, please contact our customer service team on www.buysubscriptions.com/contactus or call us on 03330 162 148.