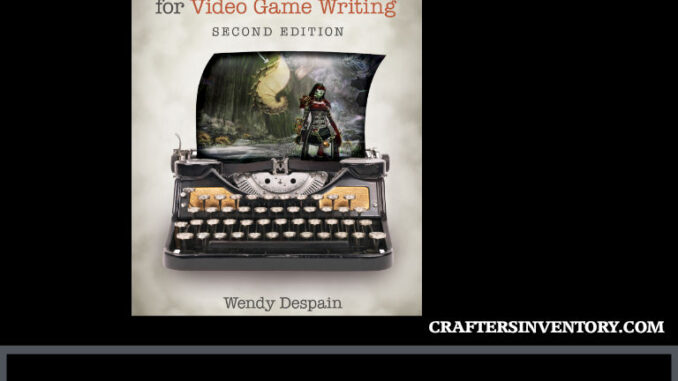 From Crafters Inventory's book section, we are delighted to feature on Day 16, a book titled Professional techniques for video game writing by Wendy Despain.
About the book
This second edition of Professional Techniques for Video Game Writing is updated with new chapters and new authors, but it's still a no-nonsense guide to the professional craft of writing for video games.
Not only does the text cover story and narrative elements, but it also addresses dialogue, documentation, and strategy guides. Seasoned video game writers each address a different topic, including the best way to break into the video game industry, how to be an efficient part of a team, and the principles of narrative design.
The book also offers script samples, technical writing advice, effective writing tips, and suggestions for how to innovate in game narrative. Key Features Comprehensive enough for veterans and accessible enough for novices Goes into detail about how to write tutorials, script doctoring, and writing for AAA games Delivers invaluable experiences directly from writers in the games industry Full of practical advice from industry pros on how to get a job, and then how to get the job done Author Bio Wendy Despain has more than two decades of experience spearheading digital media projects.
She has worked with teams around the world as a writer, narrative designer, producer, and consultant on interactive experiences ranging from video games to augmented reality. She's worked with EA, Disney, Ubisoft, Cartoon Network, PBS, Marvel, and Wargaming. Currently, she's a Production Director at ArenaNet, makers of the Guild Wars franchise. Her books include: Writing For Videogame Genres: From FPS to RPG Talking to Artists/Talking to Programmers 100 Principles of Game Design