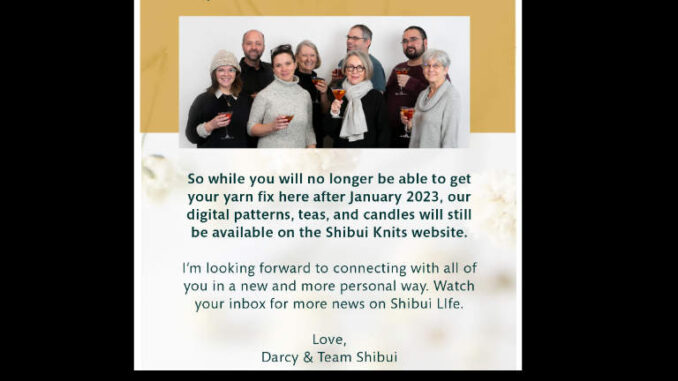 Here is a message from Darcy & Team Shibui regarding the future of Shibui Yarns.
Read the press release
It's bee a tough couple of years to be stressed about. Sometimes it feels like the world we knew has collapsed around us. In a lot of ways it has.
Little by little the emotions of fear, anxiety, and insecurity can become our baseline. When we're stressed we distract ourselves instead of being present. We stop taking care of ourselves.
We stop dreaming and creating. We're in survival mode.
It is time to coax ourselves out of survival mode and reclaim our joy… 15 minutes at a time.
That's why I created the Shibui Life newsletter. Ideas you can accomplish in 15minutes or less.
In my free newsletter, I'll show you how to create moments of presence and delight, suggest small habits to ground your day, and provide thought provoking perspectives that can lead you out of the suck places.
These are not shoulds or one more thing you have to do. It isn't for Instagram or even self-improvement (I think you're just fine the way you are). It's just for you.
As Shibui Life begins, Shibui Knits yarns are going away.
If you're reading this email, you're a Shibui Knits customer. We are deeply grateful to everyone of you. You paid our rent, made it possible to do work we love, and inspired us to do better. Because of you, we got to join a wonderful community of knitters. It's poignant moment for us and maybe for you too. Endings are what create space for what's next but that doesn't mean we can't give them a proper send-off by acknowledging what Shibui Knits and all of you have meant to us.
I want to give a shout-out to our team. I have been privileged to work with some of the most talented professionals in the industry. I could not be prouder of the work they've done. But it's the way they care for each other that really touches my heart. That's what I'll miss the most.
So while you will no longer be able to get your yarn fix here after January 2023, ourdigital patterns, teas, and candles will still be available on the Shibui Knits website.
I'm looking forward to connecting with all of you in a new and more personal way. Watch your inbox for more news on Shibui Life.
Love
Darcy & Team Shibui
Link: https://mailchi.mp/shibuiknits/saying-goodby-to-shibui-yarn-and-hello-to-shibui-life