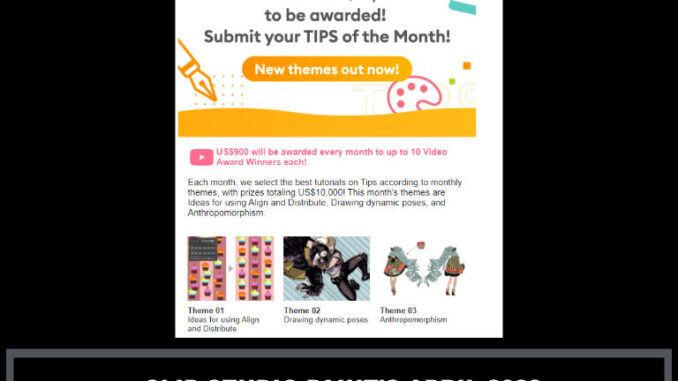 Clip Studio Paint's April 2023 Tutorial Themes Challenge Emerge
Clip Studio Paint's tutorial themes for April 2023 are out.
Read the press release
Now accepting tutorials for TIPS of the Month
US$900 will be awarded every month to up to 10 Video Award Winners each!
Each month, we select the best tutorials on Tips according to monthly themes, with prizes totaling US$10,000! This month's themes are Ideas for using Align and Distribute, Drawing dynamic poses, and Anthropomorphism.
Theme 1
Ideas for using Align and Distribute
#Aligndistribute
How do you incorporate Align and Distribute into your workflow? We'd love to hear your ideas on how they can be used to level up your illustrations or design work!
Theme 2
Drawing dynamic poses
#Dynamicpose
We are looking for ways to draw poses that convey the dynamism of a character! Using Clip Studio Paint, please show us the key points needed to draw dynamic full-body poses for various situations, such as daring action scenes.
Theme 3
Anthropomorphism
#Anthropomorphism
Animals, food, whatever your heart desires! We want to see what points you consider when you anthropomorphize your favorite things! Show us your gijinka creation process using Clip Studio Paint.
Note: Images and examples based on existing intellectual property cannot be submitted to Clip Studio TIPS.
Link: https://www.clipstudio.net/content/tips/en/?