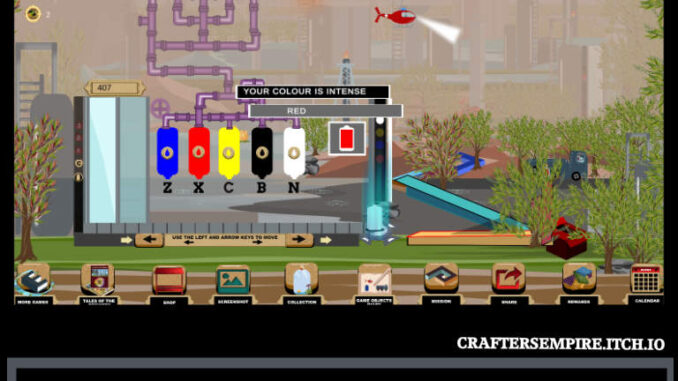 Anino's game titled "Tales of the Refinery" is now available to play on Itch.
You don't need to download it to your computer. you can play it on your web browser.
Link: https://craftersempire.itch.io/the-refinery-of-colours
However, the Screenshot Button which enables the player to take pictures and save gameplay and the Video Instruction Buttons on "how to play the game" are not effective on the web but we will fix that since we just got to know about the issue on the web. (We learnt that there are issues with it on the WEB but not when the file is available to download) but since the game file is too large and we don't want you to download it, we decided to put it on the game's Web Host for you to play on your browser.
Furthermore, documentation from designing to making the game will be available soon.
Here is a description of the game.
About The Game
A colour mixing simulation game whereby the player encounters the challenge of mixing colours either in its "intense" or "mild" state to fulfil sample orders hence receiving colour bucks as payment and colour stats as feedback thereby making choices to find the industry's icons in floating lilies or lotuses and combining these icons with the colour bucks and colour stats to open the colour storybook relating to the industry titled "Tales of The Refinery" which can be read or listen to in audio format.
The player also has the choice of engaging in in-game and out-game events which can be mini-games, realistic colour inspirations, competitions and celebrations or events to enjoy more use of colours in different industries using the calendar and mission tab to note active activity.
Frequently asked questions are found in the prototype mode scenery when the menu button which is close to the hint button is being clicked.
Crafters Empire On ITCH: https://craftersempire.itch.io/