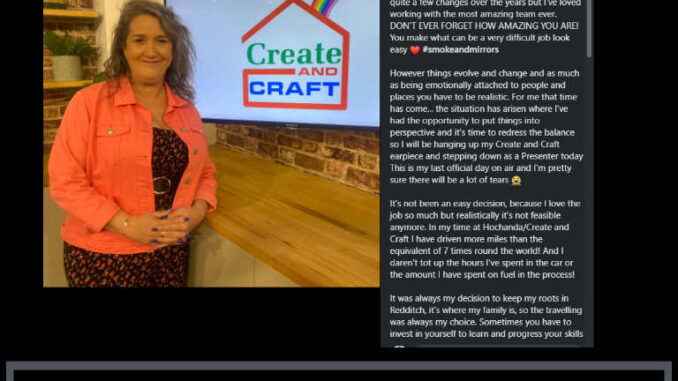 According to a post by Craft Presenter, Hayley West on her Facebook page, she is leaving Create and Craft TV to a new path yet undisclosed and unknown but will keep crafters updated on her Facebook pages, Handmade by Hayley page and Hayley The Camping Crafter.
Read the press release
I've written, deleted and rewritten this post quite few times and got rather emotional in the process so (deep breath) …. as many of you know I've been involved in Hochanda since the beginning, nearly 8yrs now
There've been quite a few changes over the years but I've loved working with the most amazing team ever. DON'T EVER FORGET HOW AMAZING YOU ARE! You make what can be a very difficult job look easy
#smokeandmirrors
However things evolve and change and as much as being emotionally attached to people and places you have to be realistic. For me that time has come… the situation has arisen where I've had the opportunity to put things into perspective and it's time to redress the balance so I will be hanging up my Create and Craft earpiece and stepping down as a Presenter today This is my last official day on air and I'm pretty sure there will be a lot of tears
It's not been an easy decision, because I love the job so much but realistically it's not feasible anymore. In my time at Hochanda/Create and Craft I have driven more miles than the equivalent of 7 times round the world! And I daren't tot up the hours I've spent in the car or the amount I have spent on fuel in the process!
It was always my decision to keep my roots in Redditch, it's where my family is, so the travelling was always my choice. Sometimes you have to invest in yourself to learn and progress your skills and that's in effect what I've been doing so no regrets. Thanks Taaffe for believing in me and giving me the opportunity in the first place. I think you'll be looking down on us all and would agree with my decision
I must also say a massive thank you to the viewers of the channel as well as all of the suppliers I've worked with over the years. It's been quite a ride eh ?! Without you we wouldn't have a channel so thank you.
I have nothing planned which is scary and exciting in equal measures. So I have no idea how this is going to pan out. I think a few weeks chilling will be a good start
I'm sorry I didn't get to see everyone to say goodbye in person but we're away for a lot of June anyway so it made sense to finish this weekend
If you want to find out how it all unfolds then check out my Handmade by Hayley page and our travels (The Camping Crafter) I'm sure I'll pop up from time to time guesting shows. I know many of you will already be friends via Facebook so I will keep that updated too.
So as they say – 5, 4, 3, 2, 1 mics out….
Hayley West