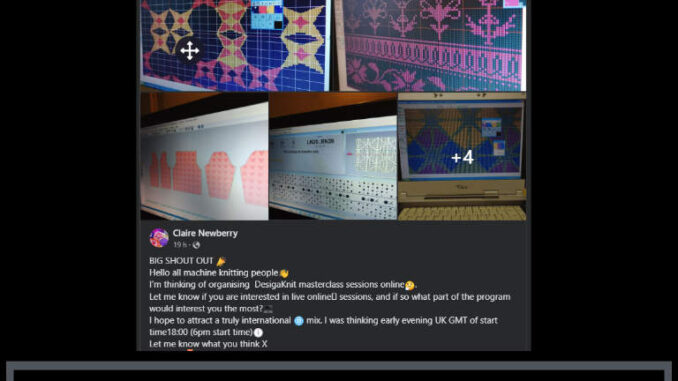 Knitwear Designer and contributor in Machine Knitting Monthly Magazine, Claire Newberry is trying to organise an online DesignAknit Machine-Knitting Masterclass.
If you want an in-depth course on the DesignAKnit charting software and the knitting machine that you can attend from the comfort of your home and country, you can contact her at the link below.
From the screenshot
BIG SHOUT OUT
Hello all machine knitting people
I'm thinking of organising DesignaKnit masterclass sessions online
.
Let me know if you are interested in live online???? sessions, and if so what part of the program would interest you the most?
I hope to attract a truly international
mix. I was thinking early evening UK GMT of start time18:00 (6pm start time)
Link: https://www.facebook.com/claire.newberry.18