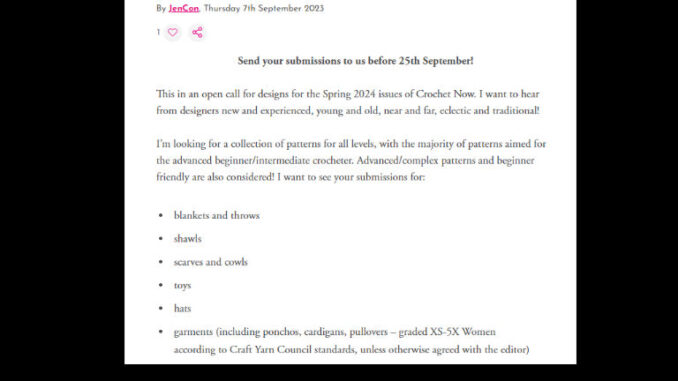 Crochet Now makes a design submission call for the Spring 2024 issue of its magazine.
Read the press release
Deadline
The deadline for submissions will be 9am UK time on Monday 25th September 2023.
Send your submissions to us before 25th September!
This in an open call for designs for the Spring 2024 issues of Crochet Now. I want to hear from designers new and experienced, young and old, near and far, eclectic and traditional!
I'm looking for a collection of patterns for all levels, with the majority of patterns aimed for the advanced beginner/intermediate crocheter. Advanced/complex patterns and beginner friendly are also considered! I want to see your submissions for:
blankets and throws
shawls
scarves and cowls
toys
hats
garments (including ponchos, cardigans, pullovers – graded XS-5X Women according to Craft Yarn Council standards, unless otherwise agreed with the editor)
Tunisian crochet
children/baby clothes
children/baby accessories
cushions and other home décor
novelties
quick-makes and stitch patterns
seasonal makes
I have prepared some mood boards for inspiration, but please don't let these limit you – if you have a great idea for a design which you think would fit in well to a spring issue of Crochet Now, I'd love to see it!
Submission requirements
Your submission should include a sketch and accompanying paragraph describing the item, a photograph or scan of your swatch and ideas for yarn choices. The submission should be presented in a PDF document, with your name and email address on every page. All information should be included in the submission document, including pictures. Please also tell us where we can find other examples of your work – a link to your Ravelry designer page or Instagram profile is ideal. You will be commissioned to write a full pattern (including any alternative sizes) and crochet a sample. We will take care of photography.
IMPORTANT: Please create a separate PDF for each idea and name the file in the following format: YourName_PatternName_CNSPRING24.pdf
Send to/contact
Please send your submissions to Jenny by email: jenny.conduit@practicalpublishing.co.uk
Link: https://craftworld.com/cms/design-for-crochet-now-magazine/