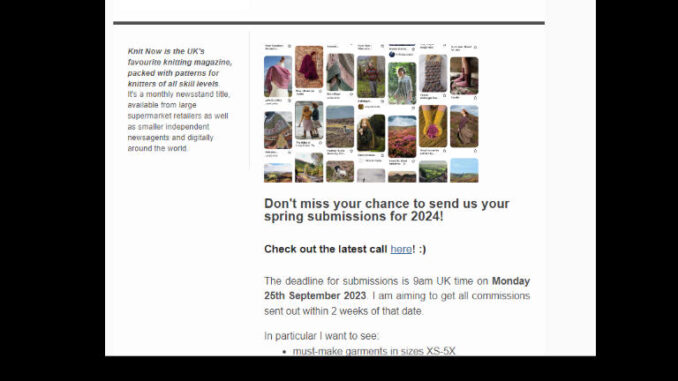 Knit Now has announced its design submission call for the Spring 2024 issue of its magazine.
Read the press release
Knit Now: Call for Spring Submissions!
Call for Submissions Spring 2024
Don't miss your chance to send us your spring submissions for 2024!
Check out the latest call here! 🙂
The deadline for submissions is 9am UK time on Monday 25th September 2023. I am aiming to get all commissions sent out within 2 weeks of that date.
In particular, I want to see:
must-make garments in sizes XS-5X
considered and stylish accessories
Super-cute garments and gifts for kids
Modern makes for the home
Cute toys and novelties to make you smile
And if you know of anyone who might be interested in designing for this season, be sure to forward them this email and let them know!
I can't wait to see your ideas,
Kate x
p.s. I'm working alongside my good pal and excellent colleague Mike as Production Editor. Mike oversees the day-to-day running of the magazine, but I will be commissioning these issues so if you have any commissioning questions, send them my way.
Link: https://craftworld.com/cms/call-for-submissions-knit-now-spring-2024/