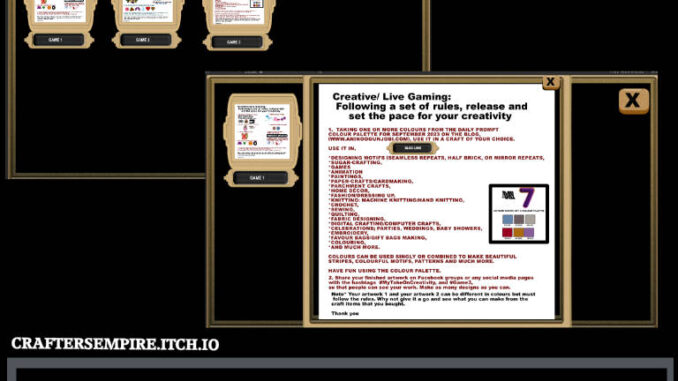 Anino has updated her Crafters Media game titled "The Refinery of Colours".
The update includes;
* Game 3 which is an inspirational and creative out-game event or live gaming.
*Calendar events from August 2023 to December 2023.
*Video tutorial link- opens a new tab on YouTube while showing a video on how to play the game.
*A button to hide the base buttons.
*Longer play before the next mixing level can be attained.
*Game Objects Diary which contains features or characteristics of elements in the game.
Remember you can click on the floating lilies to get prices and then listen to the Audio Book titled "Tales of the Refinery". More stories will be added later to the "Tales of the Refinery" audio storybook.
The shop and progress bar have not been updated yet.
Enjoy the free-to-play game which you can download or play on your browser if desired.
Game link on Itch.io: https://craftersempire.itch.io/the-refinery-of-colours
You can also see and play our other games on itch.io
Link: https://craftersempire.itch.io/
You can leave your comments on this post to enable us to know what you would like to see and if we can implement it.