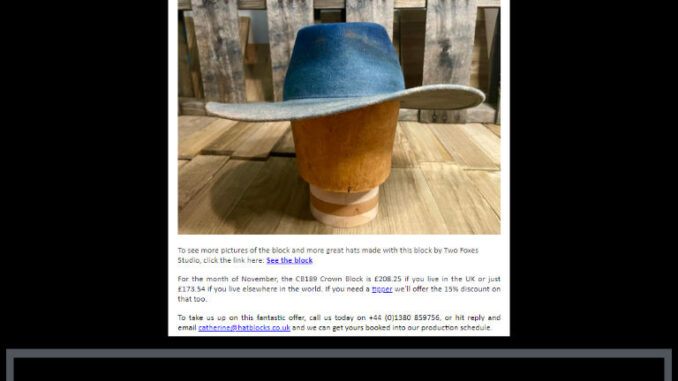 The block for the month of November 2023 on HatBlock is Crown Block CB189.
Read the press release
BLOCK OF THE MONTH – Crown Block CB189
Every month you can enjoy 15% discount on one of our blocks and this month you can get a deal on this trilby-style crown block CB189.
The block measures 7.3cm wide, centre top, and stands 3.5cm tall at the highest point.
We love this stylish hat by Kimberly Hutsal of Two Foxes Studio.
To see more pictures of the block and more great hats made with this block by Two Foxes Studio, click the link here: See the block
For the month of November, the CB189 Crown Block is £208.25 if you live in the UK or just £173.54 if you live elsewhere in the world. If you need a tipper we'll offer the 15% discount on that too.
To take us up on this fantastic offer, call us today on +44 (0)1380 859756, or hit reply and email catherine@hatblocks.co.uk and we can get yours booked into our production schedule.
Link: https://www.hatblocks.co.uk/block-of-the-month-november-2023-cb189/