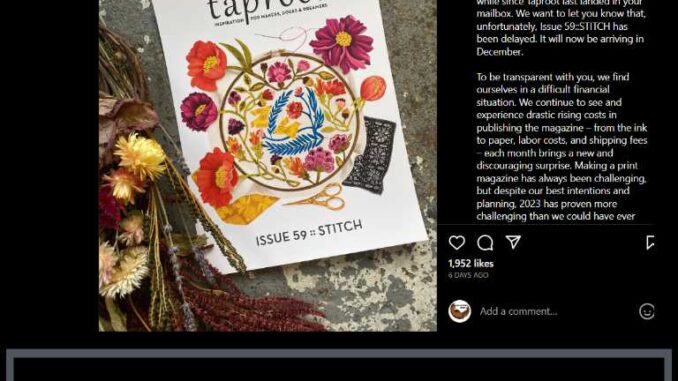 According to a post by TapRoot, issue 59 will be arriving in December 2023.
Read the press release
An important note about our upcoming issue, STITCH. ~ We know it's been a while since Taproot last landed in your mailbox. We want to let you know that, unfortunately, Issue 59::STITCH has been delayed. It will now be arriving in December.
To be transparent with you, we find ourselves in a difficult financial situation. We continue to see and experience drastic rising costs in publishing the magazine – from the ink to paper, labor costs, and shipping fees – each month brings a new and discouraging surprise. Making a print magazine has always been challenging, but despite our best intentions and planning, 2023 has proven more challenging than we could have ever anticipated.
We sincerely apologize for this delay and ask for your patience and grace as we weather this storm and while you await STITCH. It's a beautiful issue, so full of cozy and crafty and deliciousness that you'll love.
➡️ If you are in a position to support us at this moment, we would be so grateful if you'd consider shopping from our collection of back issues and our online shop, full of our curated selection of goods made by small and independent artists and makers.
We are grateful for your support of our small business and this independent publishing adventure. We are deeply committed to honoring our promise to you, our readers, and contributors, and we look forward to sending STITCH out soon. ❤️
????If you're a subscriber who hasn't heard this news yet, reach out to us to update your contact information so we may keep you informed. The best way to contact us with questions, ideas, or concerns is via email to Customer Service: subscribe@taprootmag.com. Emails will be prioritized over instagram messages.