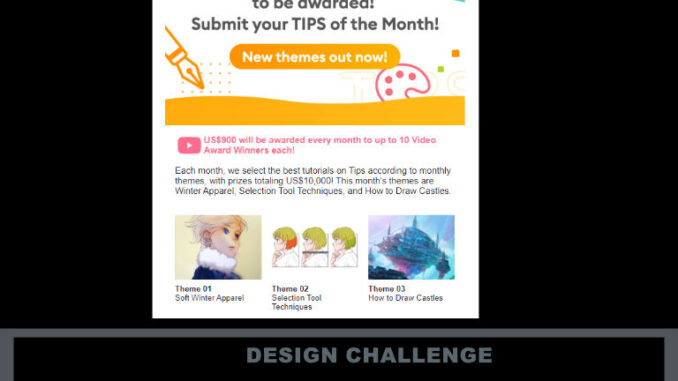 Clip Studio Paint has announced the tutorial themes for November 2023 and the entry period is November 1st to 30th November 2023.
Read the press release
Now accepting tutorials for TIPS of the Month
Entry period
November 1 ~ November 30, 10:00 JST/01:00 UTC
Each month, we select the best tutorials on Tips according to monthly themes, with prizes totaling US$10,000! This month's themes are Winter Apparel, Selection Tool Techniques, and How to Draw Castles.
Theme 01
Soft Winter Apparel
#WinterApparel
Many people find it difficult to draw winter clothes like coats and sweaters and other items for cold weather such as gloves. Please share your tips on how to draw textures for fur and knit patterns for soft winter apparel with Clip Studio Paint and Clip Studio Assets materials.
Theme 02
Selection Tool Techniques
#SelectionToolTechniques
You can use selection areas in Clip Studio Paint to edit and draw in a specified area, as well as save and change selection areas with Selection Layers. Let us know how you use selection areas in your work!
Theme 03
How to Draw Castles
#HowtoDrawCastles
Castles and palaces are essential to fantasy works and fairy tales, and they take many different forms across time periods and regions. Using Clip Studio Paint, share how to understand perspective and express textures for these luxurious and grand buildings where people of noble status once lived.
Entry requirements
Explain how to use Clip Studio Paint using your own words and examples in line with one of the themes of the month.
You must fulfill all of the requirements detailed under "How to Enter."
New Tips posted during the entry period are eligible. Tips that were originally posted before the entry period begins are not eligible.
Tips must be written in one of the following languages.
English, French, Spanish, German, Japanese, Korean, or Chinese (Traditional)
Entries in English, French, Spanish, or German must be a minimum of 200 words long.
So that beginners can easily follow along, be sure to include screenshots of Clip Studio Paint as necessary.
Make sure to include at least two screenshots, images, or videos to your guide.
Celsys and its affiliates reserve the right to make use of images and text content of prize-winning Tips to promote Clip Studio Paint.
Winners will be announced the month following the month entered.
Please note that we are unable to provide comment on why certain entries are/were not awarded.
You may use the Clip Studio Paint logo in images for articles posted on Clip Studio Tips.
Please note that use of the logo (or lack thereof) will have no impact on Tips of the Month judging.
When using the Clip Studio Paint logo, please:

do not alter the logo in any way, including changing the aspect ratio or dimensions, altering the color or adding shadows, gradients, or patterns, or cropping, flipping, or inverting the logo.
do not use the logo in a way that could cause your article to be mistaken for an official Clip Studio Paint article.
Link: https://www.clipstudio.net/content/tips/en/