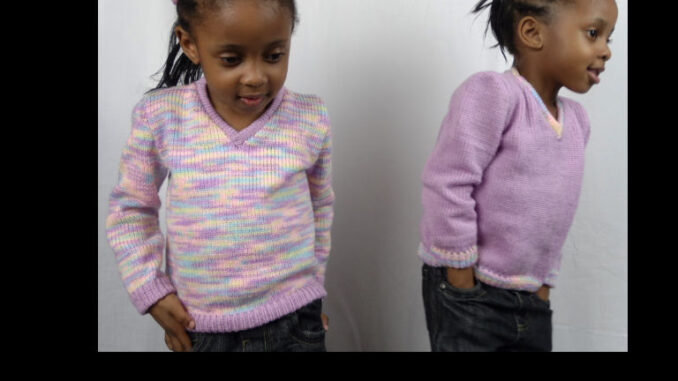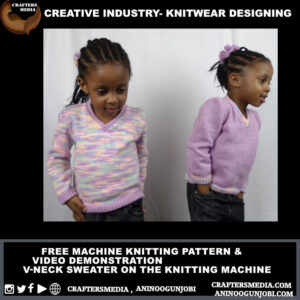 Photo credit: Ahudybery®
Why not join me on the youtube link below and knit this outstanding overlapped v-neck sweater with set-in sleeve for the winter, using double knitting yarn (DK) 100% acrylic: Robin and Robin paintbox by Thomas B. Ramsden.
The sweater designed with standard garment styling, of the designaknit software is being knitted in this video, with the LK150 or K360 knitting machine.
A flat bed knitting machine that can knit stockinet stitch patterns can be used.
Have fun and happy knitting!!!
Here is the machine knitting pattern in pdf:
child- chest 57cm, 60 hip cm, 54cm waist, 104 cm height.
PDF  V NECK SWEATER 57CM CHEST b
or watch it here step by step on youtube.
The sequence of the videos are listed below:
1a. Designing the sweater- https://youtu.be/JHHExBbbIf8
1. Back of sweater: https://youtu.be/d_kR4oJLwUc
2. Sweater sleeves or jumper arm: https://youtu.be/cAeFujsIaXY
3. Front of sweater: https://youtu.be/9j6eeDpRq-Y
4. Finished sweater: https://youtu.be/WcSdgy0wc8c