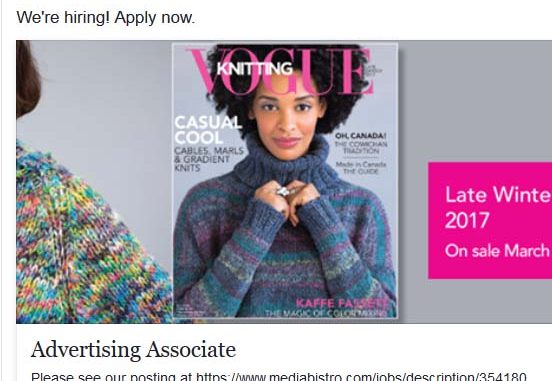 According to a post by Vogue knitting on its Facebook page, Vogue knitting needs an administrative assistant and sales person.
Read the press release below.
We are looking for a highly organized administrative assistant and sales person to join our team, concentrating on print, events and online properties for our preeminent knitting magazine group.
The job will include both administrative and trafficking duties, account management, and sales. Customer service and professionalism are the keystone of our successful sales team.
Administration: Will be responsible for all support for the department, including maintaining records and generating sales reports, as well as trafficking ads and dealing with clients to meet deadlines.
Excellent communication and computer skills and an ability to juggle many tasks at once are necessary.
Sales: Responsibilities will include supporting an existing client base, as well as assisting in generating new business. Ability to understand and execute digital and social advertising over multiple media platforms is a must.
This is a unique job for a self-motivated, performance-driven person wishing to start in sales, or take his or her career to the next level.
It is very important that the candidate has extreme attention to detail, with excellent oral and written communication skills, and is able to work independently. A knowledge and passion for knitting is preferred.
Link: https://www.mediabistro.com/jobs/description/354180/advertising-associate-/