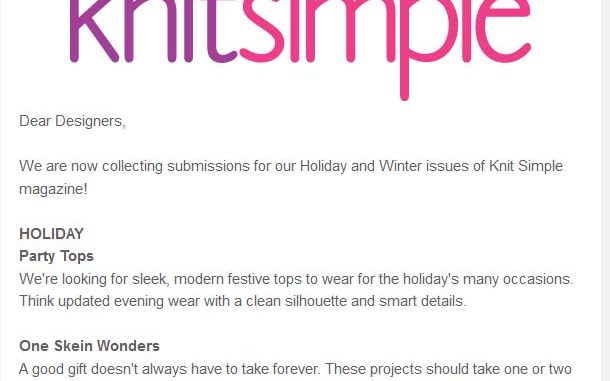 Knit Simple(magazine) design submission call for holiday, Winter 2917.
Read the press release below.
Dear Designers,
We are now collecting submissions for our Holiday and Winter issues of Knit Simple magazine!
HOLIDAY
Party Tops
We're looking for sleek, modern festive tops to wear for the holiday's many occasions. Think updated evening wear with a clean silhouette and smart details.
One Skein Wonders
A good gift doesn't always have to take forever. These projects should take one or two skeins max, and can be anything you can imagine.
Market Bags
Create something perfect you can take anywhere for last minute grocery shopping or your weekly haul. Eco friendly market totes can come in all shapes and sizes – lined or not, big or small, but these bags will make a big impact.
WINTER
Farmhouse Knits 
Get inspired by comfy layering pieces and farmhouse plaids. Take a look on pinterest for some farmhouse inspo!
Hygge is the Word 
Everyone's obsessed with hygge – the danish word for the cozy feeling you get from family, food, or being wrapped in a big fluffy blanket. Keep your mind on wrap sleeve shrugs, comfy blankets, textured knits, and chunky yarns.
Polar Bear Baby
A big trend in kids wear is polar bear everything. Knit "paw" mitts, furry jumpers, friendly polar bear faces on sweaters – creativity is key.
Yoke Sweaters
Simple introduction to yoke sweaters in childrens wear. Can be colorwork or stitch pattern.
E-mail your submissions as pdf, jpg, or doc attachments to designsub@sohopublishing.com with "KS Winter" or "KS Holiday" in the subject line. Please keep your submissions to a maximum of 2 pages and 2MB per design idea. Be sure that your name and contact information is listed on each page.
Please note that we will only contact you if your design is chosen. However, if your design is not chosen for this issue, it will be held for future consideration.
The deadline for all submissions will be Monday, April 24th 2017. Good luck!
Best,
Knit Simple Design Team