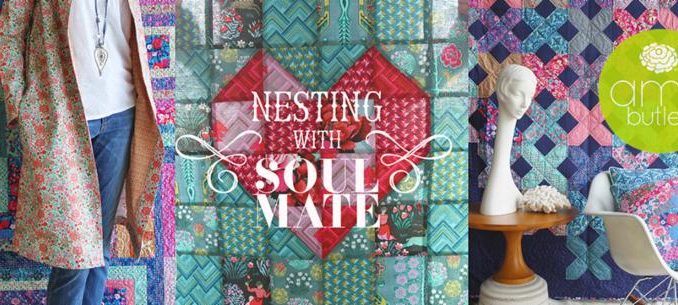 Amy Butler speaks her Soul Mate designing journey.
Read the press release below.
This is the time of year for love and blossoming! For me, June and July are filled with the burgeoning energy of growth. As a passionate gardener my plants and flowers are daily reminders for me to connect with possibility and to enjoy the beauty all around me. As an artist it's a joy for me to bring this feeling to life through my designs and an even bigger joy to get to share it! I've loaded this newsletter with lots of summer Soul Mate inspirations so be sure to scroll all the way to the bottom to connect with creative resources to inspire your season.
You've followed me on my Soul Mate journey this spring and have been a part of this fun creation adventure. As with all of my fabric musings.. this collection is inspired by a combination of my heart inspirations and a lovely mix of happy prints that help tell the story and spread the positive vibes! I played with the parallels of how being in tandem and mixing elements go hand in hand with a great quilt and a great relationship. To take it a step further a few of my dear friends wrote about their partners and expressed what they see as the deeper connection to each other. No boundaries of culture, religion or preferences, just pure LOVE! And why they are soul mates for each other. Grab a tissue when you read these because they will touch your heart!
In my relationships and with my creativity and how I live and grow creatively I'm learning I'm on the right path when it all comes together with synchronicity and ease. I follow the Power Path every month and they are always spot on with positive guidance for growth. In their June newsletter they share the idea that " it's time we learn the lesson that growth doesn't need to include suffering and to be grateful instead of suspicious when life seems too easy". That stopped me in my tracks. I know that I grow both ways through life experience but I love the idea to hone in on ease. This feels like a gift of perspective, and a powerful loving place to live and grow from.
Let's get started my friends! This is your time to blossom!
Wth much, much love!
Amy
Link: http://www.amybutlerdesign.com/products/fabrics_soulmate_display.php