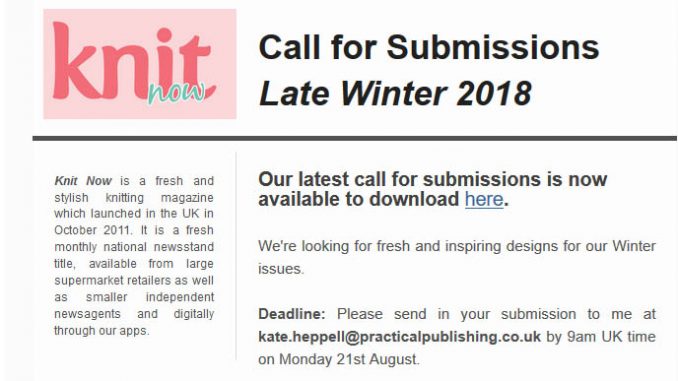 Knit Now design submission call for late winter 2017/2018 issue and the submission deadline is at 9am UK  BST(British Summer Time) on  21st August 2017.
Read the press release below.
Our latest call for submissions is now available to download here.
We're looking for fresh and inspiring designs for our Winter issues.
Deadline: Please send in your submission to me at kate.heppell@practicalpublishing.co.uk by 9am UK time on Monday 21st August.
I can't wait to see what you come up with!
Knit Now Winter 2017-18 Call for Submissions This call is for the Late Winter 2018 issues (on sale in January, February & March; 3 issues) of Knit Now.
I'm looking for a wide range of stylish and wearable knits for the Winter season.
Knit Now caters to a range of ages and ability levels so beginner, intermediate and advanced patterns are equally welcome – the beauty of the design is what is most important. For each issue, I am looking to commission; • 5 or 6 accessories. Quick knits and one-ball makes such as hats, scarves, mitts, bags etc. Each issue includes at least 1 shawl & 1 pair of socks. • 2 or 3 garments.
Generally pitched at an intermediate skill level, we tend to print patterns which are primarily wearable and stylish.
All garments must be sized up to at least a 3X. • 1 or 2 babies' and children's knits and 1 toy.
We have a preference for contemporary, gender-neutral designs but we're open to more traditional patterns too. • 1 or 2 Home knits. Beautiful, useful, sometimes unexpected things. Cushions, gadget cases and tea cosies are welcome but we draw the line at egg cosies!
In each issue, about half of the patterns should respond directly to that issue's theme; the remainder can simply be beautiful, inspiring, seasonally-appropriate knits.
TIP! We frequently have lots of excellent garments submitted, but we only commission an average of 2 garments per issue. You will improve your chances of acceptance if you think beyond garments. You are welcome to submit an idea in different variations – for example, the same stitch pattern used on a cardigan and a shawl.
The Collections: Frost Flowers https://www.pinterest.co.uk/kateheppell/frost-flowers/ It's prime knitting season so we're looking for cosy knits for the depths of winter. Focus on a dusky palette and fuzzy, airy yarns. We want to see all kinds of stitch patterns – textures, cables, lace and colourwork. Animal Lovers https://www.pinterest.co.uk/kateheppell/animal-lovers/ Gorgeous gifts for cute critters and the humans who love them. Remember that the majority of our patterns are for women's accessories and garments – though we're definitely open to a couple of designs for our furry friends and one or two baby makes. The Great British Library https://www.pinterest.co.uk/kateheppell/the-great-british-librart/ Turn to your bookshelf for inspiration this month. Whether it's a well-worn classic or a modern work that touches your soul, we want to see your knits fit for literary heroines. This is our Best of British issue so our focus is on authors who have written in or about Britain, and all of the yarns featured will be made in Britain.
We are keen to feature all designers who call these shores home, no matter where they may originally hail from. Collection curated by Louise Scollay of KnitBritish.
Further inspiration If you're looking for broad inspiration for this season's knits, take a look at my general boards: Designs catching my eye: https://uk.pinterest.com/kateheppell/inspiring-knits/ Ideas for baby: https://uk.pinterest.com/kateheppell/tiny-people-knits/ This season's catwalk collections: https://uk.pinterest.com/kateheppell/fall-17-rtw/
About Knit now
Knit Now is a fresh and stylish knitting magazine which launched in the UK in October 2011. It is a fresh monthly national newsstand title, available from large supermarket retailers as well as smaller independent newsagents and digitally through our apps.