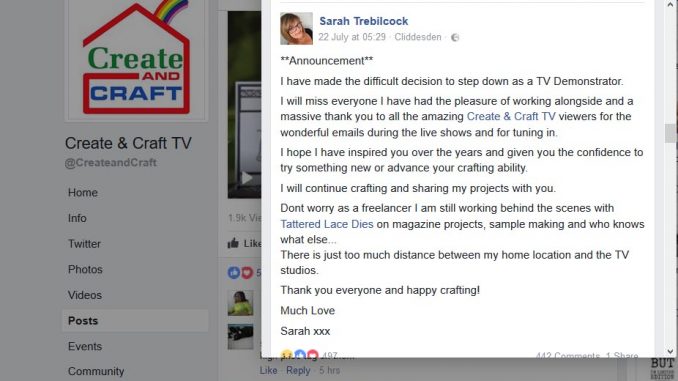 According to a post by Sarah Trebilcock on her Facebook page and on the visitor's post of Create and Craft TV's Facebook page, She (Sarah Trebilcock) is stepping down as Craft TV demonstrator for Create and Craft TV.
From the screenshot.
**Announcement**
I have made the difficult decision to step down as a TV Demonstrator.
I will miss everyone I have had the pleasure of working alongside and a massive thank you to all the amazing Create & Craft TV viewers for the wonderful emails during the live shows and for tuning in.
I hope I have inspired you over the years and given you the confidence to try something new or advance your crafting ability.
I will continue crafting and sharing my projects with you.
Don't worry as a freelancer I am still working behind the scenes with Tattered Lace Dies on magazine projects, sample making and who knows what else…
There is just too much distance between my home location and the TV studios.
Thank you, everyone and happy crafting!
Much Love
Sarah xxx