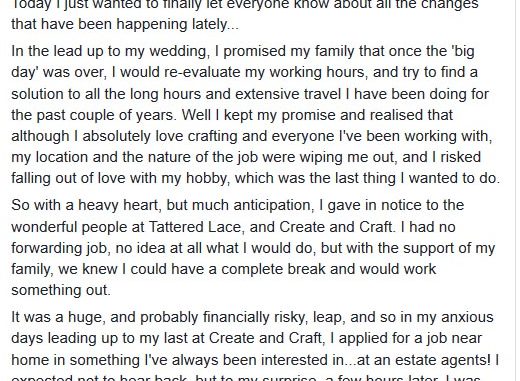 According to a post by Lou Collins on her Facebook page, she (Lou) has left Tattered Lace® to become an estate agent.
From the screenshot.
Happy Sunday everyone!!
Today I just wanted to finally let everyone know about all the changes that have been happening lately…
In the lead up to my wedding, I promised my family that once the 'big day' was over, I would re-evaluate my working hours, and try to find a solution to all the long hours and extensive travel I have been doing for the past couple of years. Well, I kept my promise and realised that although I absolutely love crafting and everyone I've been working with, my location and the nature of the job were wiping me out, and I risked falling out of love with my hobby, which was the last thing I wanted to do.
So with a heavy heart, but much anticipation, I gave in notice to the wonderful people at Tattered Lace, and Create and Craft. I had no forwarding job, no idea at all what I would do, but with the support of my family, we knew I could have a complete break and would work something out.
It was a huge, and probably financially risky, leap, and so in my anxious days leading up to my last at Create and Craft, I applied for a job near home in something I've always been interested in…at an estate agents! I expected not to hear back, but to my surprise, a few hours later, I was called for an interview later in the week! It was arranged for the day after my last shows, and rather than in the place I applied for, it would be for a position in a branch in the town I grew up in and lived in for nearly 30 years, and so know very well. Meant to be? Maybe.
So I finished my shows Wednesday, and everyone was amazing. All so supportive. Rather than having the rest that I wanted, I went off to my interview Thursday and 10 minutes into the interview I was told that if I wanted it, the job was mine, with a choice of locations and I could do my training day the very next day! Still dumbstruck at everything, I did exactly that and am now very much enjoying being home every night and having every Sunday with my family
?
For now I am still crafting however. In fact I have been making some show samples today, which I will share as soon as I am able.
Crafting is now a hobby again, and I love that.
Myself and my family know that it was the right choice, and maybe I should've done it sooner. However, everything happens for a reason, and I think this new job, right now is perfect for us xx