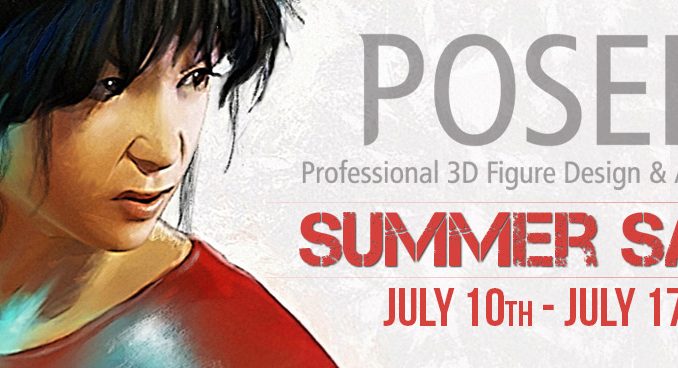 Enjoy over 40%(forty percent) discount on Poser software from Smith Micro on Renderosity.
Read the press release below.
Poser Summer Sale.
Save over 40% on your choice of Poser Software from Smith Micro.
Poser is a 3D universe to illustrate and animate in. Whether you've just begun your journey into graphics or you're a seasoned professional, Poser is your gateway to an experience that is infinitely creative. Design your 3D world with gigabytes of included content from Poser's library. Set the scene with real-world props and 3D elements. Populate and animate scenes with ready-to-pose, fully textured animals and humans. Start making 3D art and animation in minutes.
We here at Renderosity are proud of our affiliation with the long line of Poser products and are excited to bring you a great sales opportunity on the latest software releases from Smith Micro.
From now thru 11:59pm (cdt) on Monday, July 17th – all Renderosity community members can save over 40% on the version of Poser that's right for you!
Link: https://www.renderosity.com/poser-summer-sale-cms-19291