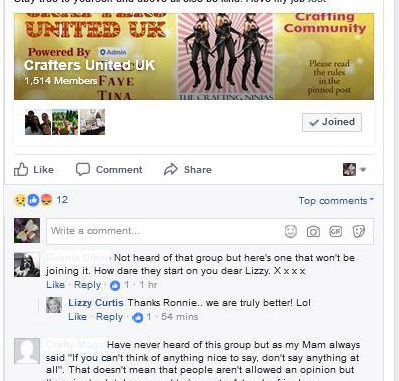 For days now, Lizzy Curtis( craft demonstrator) and Crafters United UK group are currently trending on Facebook in a heat of a misleading information. See the screenshots below.
From the Screenshot.
"My understanding is that this group has posted slanderous comments about me, quite personal I believe. I don't need to know the details. I'm sharing because if you are a lovely crafty person please don't join them. Stay true to yourself and above all else be kind. I love my job xxx".
Lizzy posted on her Facebook Page that Crafters United UK ( a closed group on Facebook) was slandering her. The Information got to members of the group and they were baffled at comments about them as some crafters believed without asking for a proof or a screenshot of the "slanderous post" as claimed.
Some crafters are asking for proof especially a screenshot of the slanderous post but Lizzy hasn't provided any instead, Liz has been blocking some crafters who are challenging her about the post.
Invitations to join the group were sent to Lizzy and her daughter so that they can read all posts themselves and see if any is "slanderous" as they claimed but they declined.
*We're still waiting for a screenshot of the "slanderous" post as we found none in the Crafters United UK Facebook page.
*Crafters, let no one use you against another, always ask for proof so that no one uses you in his\her hidden motive.