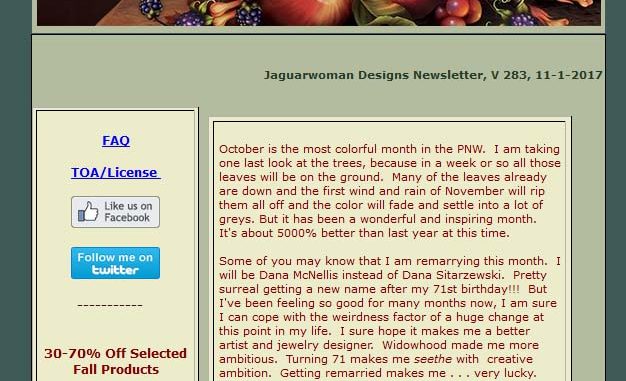 According to Jaguarwoman designs' November 2017 newsletter, she is getting married. Dana Sitarzewski(Jaguar woman designs) will now be answering or known as Dana McNellis after her wedding.
Read the press release below.
October is the most colorful month in the PNW.  I am taking one last look at the trees, because in a week or so all those leaves will be on the ground.  Many of the leaves already are down and the first wind and rain of November will rip them all off and the color will fade and settle into a lot of greys. But it has been a wonderful and inspiring month.  It's about 5000% better than last year at this time.
Some of you may know that I am remarrying this month.  I will be Dana McNellis instead of Dana Sitarzewski.  Pretty surreal getting a new name after my 71st birthday!!!  But I've been feeling so good for many months now, I am sure I can cope with the weirdness factor of a huge change at this point in my life.  I sure hope it makes me a better artist and jewelry designer.  Widowhood made me more ambitious.  Turning 71 makes me seethe with creative ambition.  Getting remarried makes me . . . very lucky.  Life feels so much better than it did this time last year.