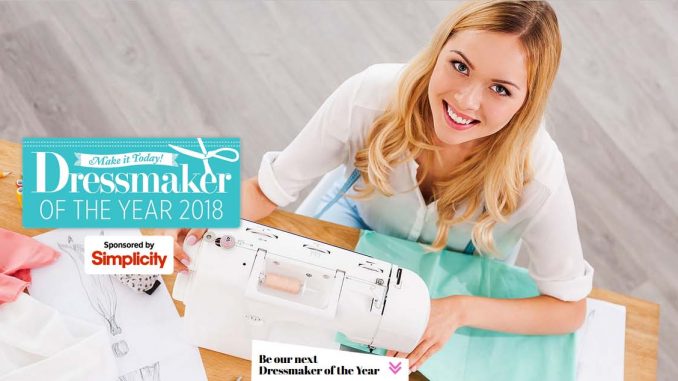 Make it Today has announced its dressmaker of the year competition for the year 2018 and the closing date is March 2018.
Read the press release below.
Look out, Vivienne Westwood! It's time to strut your stitchy stuff, as we proudly announce the launch of our second Dressmaker of the Year competition. Following the massive success of our first campaign, which inspired over 1,200 entries, we want all you DIY fashion fans to show us what you're made of, with six categories and all kinds of couture possibilities at your fingertips.
How to enter: Simply take a clear photo of your garment against a plain white background and enter it below. You can include up to five shots of your garment to show any details if you like, and you'll also get a chance to tell us a little of the story of your make. Contestants can enter each category, with multiple entries if they wish, but each entry must be a different make. All entries must be received by 9th March 2018.
Six Easy-To-Enter Categories
Simplicity: Show off your garment created using a Simplicity or New Look pattern, open to all styles, just remember to include details of the pattern number.
Everyday: Home-made tops, skirts and gowns which fit like a glove, featuring a high level of comfort and ease of wear.
Occasion: Sew special selections and posh frocks that showcase the finest designs for parties, weddings and fancy events.
Upcycling: Bringing new life to existing items with inventive touches, this is your chance to show us all your customised creations.
Vintage: Go back to the future with retro makes in your choice of genre and style for endless interpretations of bygone beauty.
Children's wear:  Send in your favourite mini make for your little-loved ones, from junior jackets to petite pinafores!
Prizes up for grabs
Category Winner
The individual category winners will win a noteworthy selection of sewing goodies such as:
Janome 230DC sewing machine
£100 Hobbycraft voucher
Personalised Fiskars Scissors
This year, every entrant will receive two
FREE
patterns!
Overall Winner
The overall winner wins a fantastic bundle of sewing goodies including:
Janome Atelier 5 sewing machine
Adjustoform mannequin
£100 Hobbycraft voucher
Madeira Cotona thread selection
A host more dressmaking delights…
Link: https://www.makeittoday.co.uk/dressmakeroftheyear/