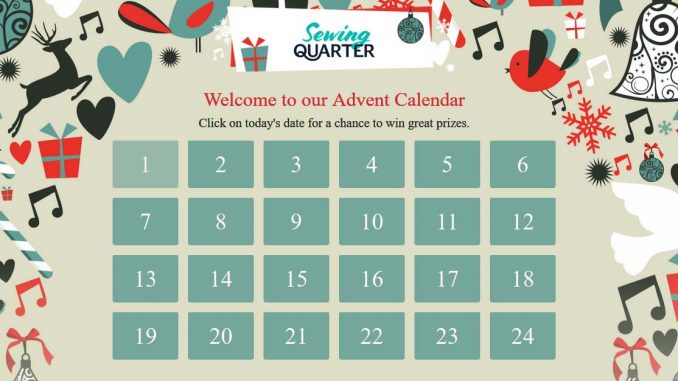 Sewing Quarter Tv releases its 2017 advent calendar with a daily prize.
Read the press release below.
Click on "Open the door" and you'll find another amazing prize behind today's date!
To take part just answer our simple question, and you could be the lucky winner of a fabulous fabric bundle worth £50!
And don't forget to check back every day for more prizes, including Kaffe Fassett books, Sew Easy Fat Quarters and gorgeous fabrics!
* Terms and conditions: The winner will be randomly selected based on submitted answers. Winners will be contacted by telephone or email; if the required information is incorrectly registered, the prize will go back into a new draw. Participation in the contest is free and there is no purchase obligation. Participation in the contest is allowed for any person who has a valid email address and is 16 years of age or older at the time of registration. The participant agrees that the registered email address will be stored and may be processed and used in connection with informing about contest holders products and services at a later date.
Link: http://sewingquarter.adventcalendar.com/