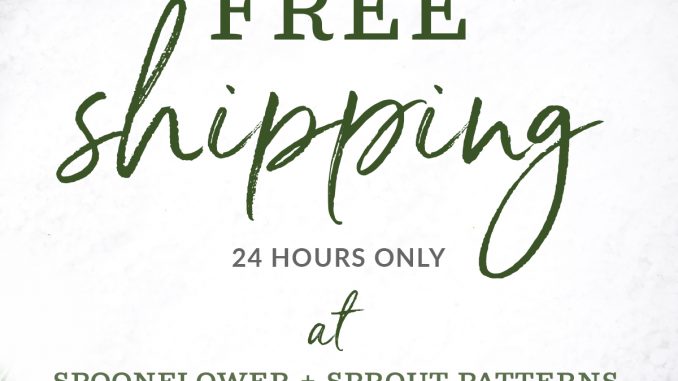 Enjoy free shipping for 24(twenty-four) hours only on Spoonflower and Sprout Patterns (use code Holiday17 on Sprout).
Read the press release below.
Enjoy free Standard shipping worldwide on all orders through 11:59 EST at Spoonflower and Sprout Patterns (use code Holiday17 on Sprout).*
Note: Orders shipped outside of the U.S. are not guaranteed to arrive by Dec. 25 with Standard shipping.**
This free standard shipping offer is valid from 12:00 a.m. EST Monday, December 4, 2017 through 11:59 p.m. EST.
Free standard shipping is applicable on all purchases completed during the promotion period.
Promo offer can be combined with 10% Everyday Designer Discount, but cannot be combined with any other promotional offers.
If your order qualifies for the Bulk Discount, you will receive the greater of the two discounts.
Promotional pricing doesn't affect commissions – during promotions, designers still receive up to 15% commission based on the original price point.
Offer is applied to your cart automatically. No code necessary.
This offer applies to US and non-US destinations.
Previous purchases are not eligible for adjustments.
Free standard shipping promotion is applicable on SproutPatterns.com with code HOLIDAY17. Promotion is not applicable on Roostery.com.
If you have any issues with purchasing, please reach out to help@spoonflower.com.
Link: https://try.spoonflower.com/promos/