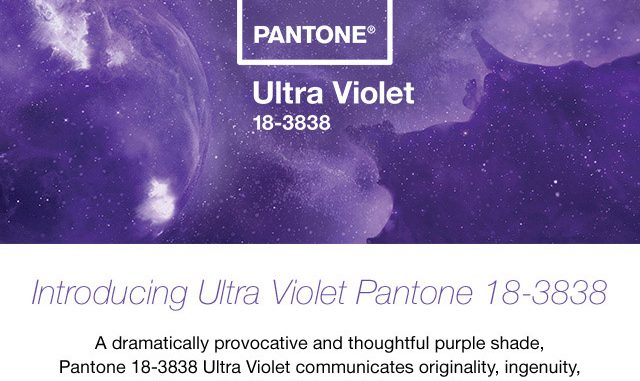 PANTONE 18-3838 Ultra-Violet is the colour of the year for 2018.
Read the press release below.
Introducing Ultra- Violet Pantone 18-3838.
A dramatically provocative and thoughtful purple shade, PANTONE 18-3838 Ultra Violet communicates originality, ingenuity, and visionary thinking that points us toward the future.
"The Pantone Color of the Year has come to mean so much more than 'what's trending' in the world of design; it's truly a reflection of what's needed in our world today." – Laurie Pressman, Vice President of the Pantone Color Institute.
As individuals around the world become more fascinated with color and realize its ability to convey deep messages and meanings, designers and brands should feel empowered to use color to inspire and influence. The Color of the Year is one moment in time that provides strategic direction for the world of trend and design, reflecting the Pantone Color Institute's year-round work doing the same for designers and brands.
Read more on  https://www.pantone.com/color-of-the-year-2018