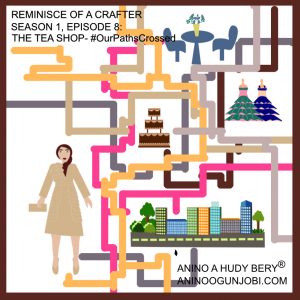 Jordy tells her story of meeting a new friend.
I had an appointment near a hospital. I opted for a Tan-colour dress with matching shoes and bag. I packed my hair in a ponytail using a Tan-colour scrunchie(it's quite a hot day and I have to get the hair off my body to avoid much sweat).
I arrived at the appointment one hour before the time because the roads were free from hectic traffic.
I sat down at a teashop and decided on a coffee and cinnamon cake without a cup of tea or coffee.
The waitress looked at me with a lovely questionable look as she asked what are you going to have this cake with then?
I asked for one can of soda drink, to be precise, Coca-Cola. She does not sell soda drinks but she called for drinks from the next shop.
She gave me a nod. I told her that I needed an empty teacup.
Ok, she replied. She returned with the teacup and waited to see what I was going to do with it.
I gave her a sly smile as I opened the can of Coke and poured the liquid content into the teacup. I lifted my head and said to her in a confident tone, this is how to keep others from thinking that you are not……
Can I ask you a question? She said.
If I am able to answer it, I will grant you an answer, I said laughing.
Why don't you want tea or coffee with your cake?
I throw up anytime I eat bread and tea or coffee, cake and tea or coffee( with or without cream or milk), that is why I answered looking at her and smiling.
Oh! I am so sorry to hear that. My nephew can't eat cereal in liquid milk. We are all created differently. I appreciate your reply.
You can tell your nephew that I am that kind of person too. I can only eat my cereal dry or with powdered milk.
We chatted for some time until the customers started coming in and she took her leave.
She was so friendly and told me that she enjoys making her customers happy and leaving with a nice memory.
I thanked her for her friendship.
As I was about to leave, the café owner(who is the waitress) beacons me to wait. She slipped her card into my hand and told me to come back on my return.
I was glad.
On my return from the appointment, I asked after her but was told that she rushed her child to the hospital. I was directed on how to find her.
Seeing her in the hospital, I tried to speak words of comfort to her as I tried to relate to her fears. I am a mother too. I didn't pry into her life. I was just there for her to cry on, talk to, hold her hands and laugh with.
I cancelled other appointments for the day and stayed with her. I called my husband to pick up our children from school.
While we were waiting, I brought out a pen and sketchpad and I told her to sketch the cake that she would like to make for her daughter, flowers, a greeting card and a dress.
She was hesitant because she was thinking the worst. She took the pen and sketched as we talked about a welcome home party for her daughter. She was trying to smile. I was trying to keep her from worrying while I was filled with worries. I noticed that she can draw.
The doctor came with the good news to say that her daughter would be fine. She was so delighted that in that ray of excitement, she hugged the doctor and you could see the shocked look on the doctor's face. She was saying the word "Thank You" multiple times. She turned and hugged me. Tears flowed down my cheeks…. " give me a tissue… I am not crying there is something in my eyes…. please". A sigh of relief.
She wondered how I could stay with her even just meeting her for the first time. I smiled and told her that I was surprised at myself too but humanity calls too.
Although we just met, I am honoured that our paths crossed. She indeed left me with a beautiful memory.
I did something different from my usual self.