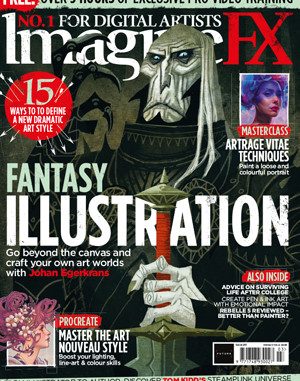 Issue 210 of the Imagine FX magazine is out!
Read the press release
Sharpen your fantasy illustration skills with the best artists in the world. This issue Johan Egerkrans graces the cover and inside reveals his advice for painting stunning dragon art. He shares his advice as well as new art from his latest book Drakar (Dragons).

This issue focuses on artists who stretch their skills to write stories and create worlds. Traditional painter Tom Kidd exclusively reveals art from his first book, Gnemo – A Novel Tale of Airships, Adventure & Exploration. Discover what inspired Tom Kidd to follow in the footsteps of James Gurney.
Workshops this issue demonstrate how to master the art nouveau style using Procreate, with Maria Dimova. Disney instructor Chris Petrocchi shares how to use the new tools of ArtRage Vitae to paint a colourful, expressionistic portrait. Dungeons & Dragons illustrator Harry Conway reveals the 15 ways he's defined his unique style, and how you can make use of form, silhouette, and shape to enhance your art.
Finally, traditional artist Francois Gautier shares his pen and ink techniques to create an illustration filled with emotion and symbolism. He also reveals his tips for photographing your art to stand out on Instagram.
This issue comes with over nine hours of video training to accompany these tutorials.
Keep in touch with ImagineFX Magazine by emailing us at mail@imaginefx.com or via our Twitter (@imaginefx) or Facebook pages.
Enjoy your ImagineFX Magazine!
Ian Dean
Editor, ImagineFX Magazine