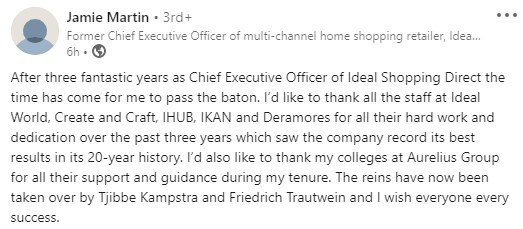 According to a post by Jamie Martin, he has stepped down as CEO of Ideal World and Create and Craft TV.
From the screenshot
After three fantastic years as Chief Executive Officer of Ideal Shopping Direct, the time has come for me to pass the baton.
I'd like to thank all the staff at Ideal World, Create and Craft, IHUB, IKAN and Deramores for all their hard work and dedication over the past three years which saw the company record its best results in its 20-year history.
I'd also like to thank my colleges at Aurelius Group for all their support and guidance during my tenure.
The reins have now been taken over by Tjibbe Kampstra and Friedrich Trautwein and I wish everyone every success.