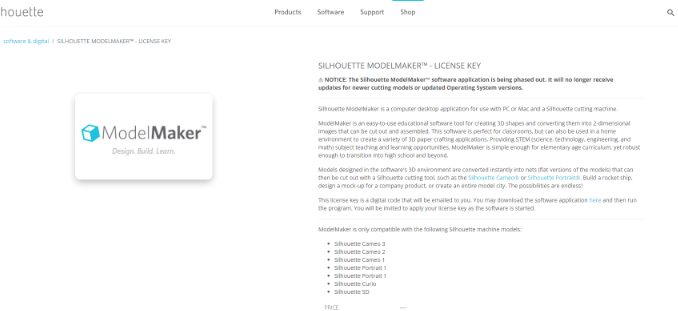 We have started a new section of things that existed in crafts that you thought you could not do without and they are now phasing out or have been phased out.
This is one phased out product that has hurt me. This software can be used not only in papercraft to make favour boxes or packaging boxes, but this software can also be used to create game elements or objects for maze games and other games
This is a software application for designing and creating Three -Dimensional Shapes that can be cut out on cardstock or fabric with the help of a digital cutter.
Read the press release
SILHOUETTE MODELMAKER™ – LICENSE KEY
⚠ NOTICE: The Silhouette ModelMaker™ software application is being phased out. It will no longer receive updates for newer cutting models or updated Operating System versions.
Silhouette ModelMaker is a computer desktop application for use with PC or Mac and a Silhouette cutting machine.
ModelMaker is an easy-to-use educational software tool for creating 3D shapes and converting them into 2-dimensional images that can be cut out and assembled. This software is perfect for classrooms, but can also be used in a home environment to create a variety of 3D paper-crafting applications. Providing STEM (science, technology, engineering, and math) subject teaching and learning opportunities, ModelMaker is simple enough for elementary-age curriculum, yet robust enough to transition into high school and beyond.
Models designed in the software's 3D environment are converted instantly into nets (flat versions of the models) that can then be cut out with a Silhouette cutting tool, such as the Silhouette Cameo® or Silhouette Portrait®. Build a rocket ship, design a mock-up for a company product, or create an entire model city. The possibilities are endless!
This license key is a digital code that will be emailed to you. You may download the software application here and then run the program. You will be invited to apply your license key as the software is started.
ModelMaker is only compatible with the following Silhouette machine models:
Silhouette Cameo 3
Silhouette Cameo 2
Silhouette Cameo 1
Silhouette Portrait 1
Silhouette Portrait 1
Silhouette Curio
Silhouette SD
Link: https://www.silhouetteamerica.com/shop/software-and-download-cards/silhouette-modelmaker