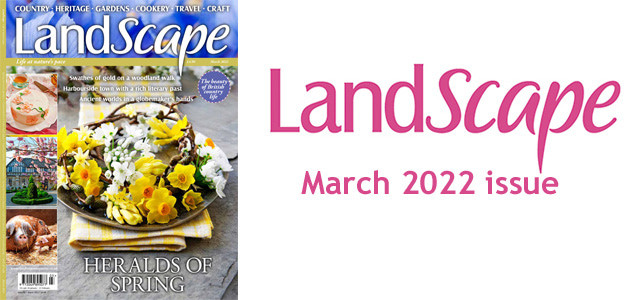 March 2022 issue of the Landscape magazine is out.
Read the press release
Your March 2022 issue of LandScape is on the way and in the meantime, here are some of the highlights to look forward to…
In the March issue of LandScape…
COLOUR WOVEN INTO A GARDEN'S TAPESTRY
Bursts of spring blooms bring freshness to the gardens of the former 14th-century priory of Brockworth Court, filled with shape and structure around shimmering water.
A TANTALISING EXTRAVAGANCE
Frosted toppings, sumptuous coatings and sweet fillings make delicious bakes even more opulent and tempting.
UNSPOILT HAVENS BY THE WATERSIDE
From Lostwithiel to the Fowey Estuary, picturesque Cornish harbour towns and villages, rich in maritime history, have proved an inspiration to literary greats.*
ANCIENT WORLDS IN A CRAFTSMAN'S HANDS
From his Isle of Wight workshop, globemaker James Bissell-Thomas recreates a view of the Earth from days gone by, as well as bringing the planet to life with fantastical designs on his wondrous spheres.
SPECKLED FRIENDS IN THE FARMYARD
With its distinctive plum pudding markings, the Oxford Sandy and Black is both delightful to behold and a contented, docile animal to keep, enjoying a resurgence in numbers due to dedicated breeders.
*Please note that in light of the current situation, restrictions may be in place, so please check before travelling.
We hope you enjoy the issue,
LandScape editorial team.