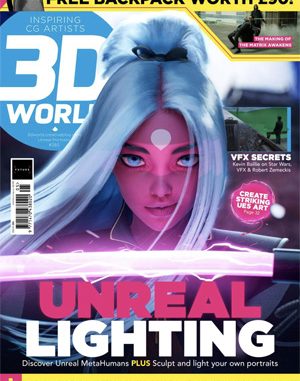 May 2022 issue of the 3D World magazine is out.
Read the press release
This issue we show you how to create stunning dynamic portraits using Unreal Engine, just like our incredible cover image. If rigging is more your thing then check out our Maya rigging tutorial, which shows. You how you can rig multi-part mech models.
If you are a fan the Matrix movies have a read of our feature on the Matrix Awakens, that delves into the tech behind the making of this awesome project
As always our Q&A panel solve your CG woes, including how to create beaches in Blender and how to know if you are making models good enough to sell. Top this off with our regular industry and community news pieces and an inspirational gallery of the latest renders from across the globe, including some more in-depth tech focus articles.

Finally, I'm always on the lookout for the best CG art. If you ever want to have your work appear in 3D World, drop me an email at rob.redman@futurenet.com.

Rob Redman
Editor, 3D World