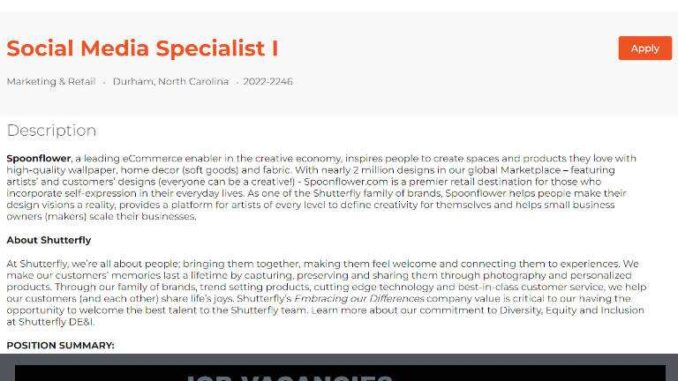 Spoonflower has a job vacancy for a digitally savvy individual.
Read the press release
POSITION SUMMARY:
We are seeking a digitally savvy, marketing-minded person to develop and execute our short-form video (TikTok, Reels, YouTube) marketing strategies and creative campaigns for the Spoonflower community across social media.
As an integral member of the Social Media Team within the Brand Marketing department, the Spoonflower Short-Form Video Content Marketing Specialist is responsible for the overall workflow of content created on Spoonflower's TikTok, Instagram Reels and YouTube channels. This includes the development and execution of campaigns, daily content management, and community building in an effort to drive Spoonflower-branded community engagement.
The ideal candidate has a passion for storytelling through digital means and through the lens of social media marketing. As Spoonflower's Short-Form Video Content Marketing Specialist, you will be responsible for cultivating intentional conversations and relationships that support our community's creativity and personal business needs. This person also loves finding and telling compelling brand stories through the lens of creative communities, i.e: artists, makers, and interior designers.
About the Spoonflower Community: A highly engaged community of artists, makers, interior designers, small businesses and design lovers from around the world. Through Spoonflower's social media communities, we provide opportunities to inspire creativity and connect through design, from Weekly Design Challenges and DIY tutorials to interior design tips, small business features and more. Head to our Instagram @spoonflower to learn more!
ESSENTIAL DUTIES AND RESPONSIBILITIES:
Develop and execute short-form video strategies and creative campaigns to boost brand awareness, support products, new product launches, and influencer/ content partnerships
Identify, recruit, and engage with audiences, creators, and consumers, in these spaces
Develop, curate, and pitch content ideas to internal stakeholders that enhance and showcase brand values through unique, engaging, and on-trend content
Create, edit, and publish brand content and contributor content
Interact with influencers and contributors on social platforms
Research relevant industry experts, competitors, audiences, individuals, and best practices
Brainstorm new innovative approaches to short-form video campaigns
Partner with Brand Marketing team to support product roadmap and content needs
Collaborate with the Social team to build a content strategy and a library of branded assets
Must be organized, forward-thinking, with the ability to simultaneously plan ahead and remain nimble for real-time response and reaction
SUGGESTED QUALIFICATIONS:
At least 2+ years of college coursework or other relevant experience completed; Bachelor's degree in a relevant field and relevant professional work a plus
1-2 years of relevant experience. I.e.: content creation and/or community engagement via social media platforms for brand(s) and organization(s)
Experience capturing video with iPhone and experience with DSLRs / mirrorless cameras (Sony, Canon) a plus
Experience creating and editing short-format video and adding subtitles and audio through applications such as TikTok, Instagram, CapCut, Inshot, Kapwing and Adobe Premiere Pro.
Creative problem solver, self-starter, and eager to identify and work towards opportunities to improve and be a part of an integrated and fast-paced collaborative work environment
Excellent written and verbal communication skills, writing for social media a plus
Able to convey empathy through active listening
Cool under pressure with an appropriate sense of urgency
Proficiency in video-editing skills and software
Link: https://jobs.jobvite.com/shutterfly/job/oszekfwj