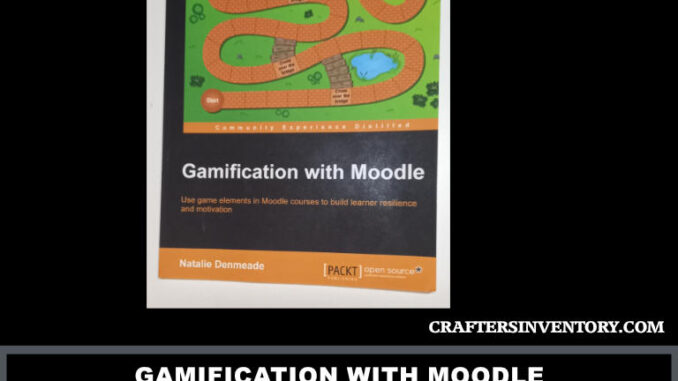 From Crafters Inventory's book section, we are delighted to feature on Day 10, a book titled Gamification with Moodle by Natalie Denmeade.
About the book
Gamification with Moodle
This book describes how teachers can use Gamification design within the Moodle Learning Management System (LMS) to increase motivation and engagement.
Gamification is a design process that re-frames learning goals to be more appealing and achievable by using game design principles. Learners may be totally unaware of the subtle game elements being used in these elegant solutions. The goal of this process is to keep learners more engaged, feel challenged, and are given the confidence to keep progressing then the Gamification strategy has been successful. Gamification in education is more about how the person feels at certain points in their learning journey than about the end product, which may or may not look like a 'game'.
By the end of this book, you will be able to create Moodle courses that incorporate choice, communication, challenge and opportunities for creativity.
Who This Book Is For
This book has been designed for teachers who to use technology to create more engaging learning experiences for both online learning and in face-to-face sessions. This book will especially appeal to people who are interested in the underlying mechanics of play and games and want to know more about applying these concepts in an educational context.
What You Will Learn
Set up a scoring system using Moodle Gradebook
Enable communication and collaboration in your class as a Learning Community using forums
Assess your learners' abilities by setting up challenges and quests
Configure gateways to check and ensure progress before new content or activities are released
Create Moodle assignments to provide effective feedback through a comment bank and custom scale
Issue Open Badges to recognize achievements and set up an online backpack to share digital badges
Reduce anxiety for learners by using the game-like concept of "Levelling Up"