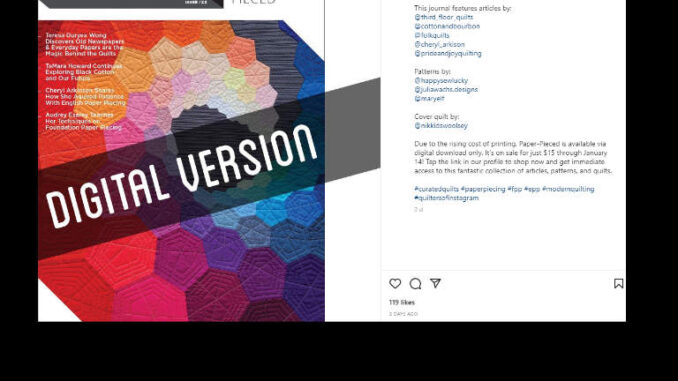 Here is a message from Curated Quilts Magazine…
Read the press release
Due to the rising cost of printing, Paper-Pieced is available via digital download only. It's on sale for just $15 through January 14! Tap the link in our profile to shop now and get immediate access to this fantastic collection of articles, patterns, and quilts
Happy almost New Year, we are looking forward to 2023 with lots of anticipation and
renewed vision for Curated Quilts. We are making changes that affect you and your
subscription, please keep reading.
To move forward, in a financially sound manner, we are not printing the January 2023
issue – Paper-Pieced. We have created an amazing issue full of artists making beautiful
paper-pieced quilts. Moving to a digital format is not our preferred format, however, it is
necessary to continue to pay our contributors, and support staff promptly.

There have been several factors in deciding to move to a digital format. Together,
Christine and I have labored over this decision for some time; and it wasn't an easy
choice. We love the tactile experience of opening and handling our journal and know
many of you do too. We have wanted to provide the best product possible for each of
you, unfortunately, due to added paper/printing and shipping costs, this is the route we
have determined best for our company.
As a subscriber, your subscription has been paused, or in a few cases refunded. We
won't be automatically charging you for a digital subscription.
You will need to stop by our shop and pick up your digital copy of Paper-Pieced. The
good news is there's no waiting for the postal service, no shipping costs, and you can
read the issue immediately!
To ease into this transition the Paper-Pieced issue will be on sale through January 14 –
we will email you a link to pick yours up as soon as it's available.
In case you are wondering how you can help, first, make sure to pick up Paper-Pieced
next week! And, tell your friends and family about the publication and why you love it so
much. Our back catalog of printed issues will continue to be available through our site.
Putting Curated Quilts in front of more people is the best way to increase numbers which
could reduce print costs in the future.

Christine and I love highlighting and working with artists in this amazing community of
quilters and do not make this decision lightly. Our small, women-owned business has
been a source of pride and encouragement for ourselves and many of you too. The
sense of community we find ourselves in company with is inspiring and insightful.
If you have questions about your specific subscription, please reply and let us know.
Amy & Christine
.