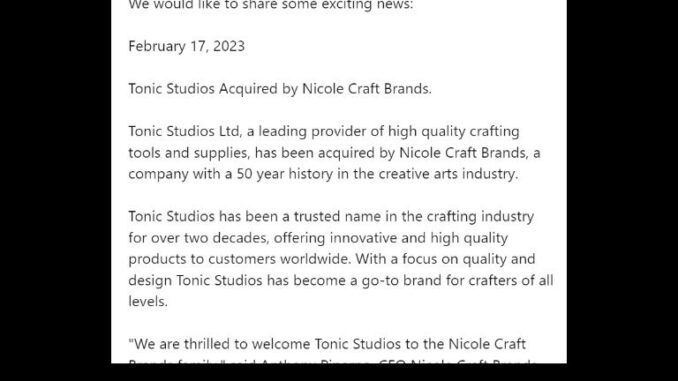 Here is a message by Tonic Studios on its LinkedIn page…
Read the press release
We would like to share some exciting news:
February 17, 2023

Tonic Studios Acquired by Nicole Craft Brands.
Tonic Studios Ltd, a leading provider of high quality crafting tools and supplies, has been acquired by Nicole Craft Brands, a company with a 50 year history in the creative arts industry.
Tonic Studios has been a trusted name in the crafting industry for over two decades, offering innovative and high quality products to customers worldwide. With a focus on quality and design Tonic Studios has become a go-to brand for crafters of all levels.
"We are thrilled to welcome Tonic Studios to the Nicole Craft Brands family," said Anthony Piperno, CEO Nicole Craft Brands. "Tonic Studios 'commitment to quality and innovation aligns perfectly with our own values. Together, we will continue to offer the highest quality crafting products to our customers around the world. It is our shared vision of innovation, quality and value that makes this acquisition a perfect match."
Tonic Studios Ltd will continue to operate under its current brand names and in its current locations. The headquarters for design and development will continue at Bridgend in South Wales led by the current management team who will all remain in the business. All staff will continue with their fantastic work of making products that crafters enjoy.
"We are excited about this new chapter for Tonic Studios Ltd," said Tonic Studios Ltd Managing Director, Gareth Davies. "We believe that joining forces with Nicole Craft Brands will allow us to take our products to the next level and achieve the vision we have always had for the brand. We look forward to working with the Nicole Craft Brands team and serving our customers with an even greater range of innovation and quality."
For more information please contact info@tonic-studios.com