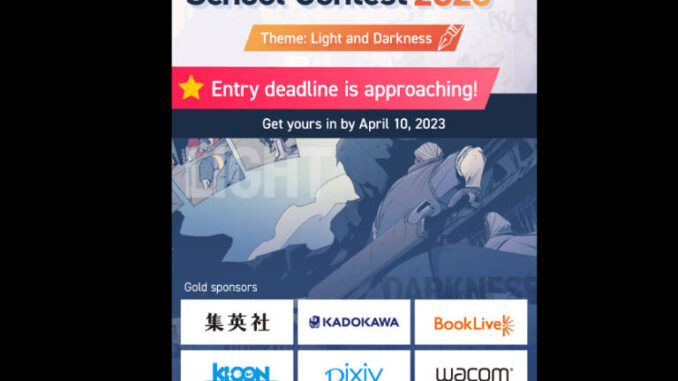 The Clip Studio Paint's International Comic/ Manga School Contest 2023 closes soon and the date is 10th April, 2023.
Read the press release
This is a manga, comic, and illustration contest open to students worldwide. Winners are eligible for cash prizes, digital creation software, pen tablets, and chances to be featured in the media too! The contest is also an opportunity to have your work judged and critiqued by professional creators and boost your skills. There are loads of categories to choose from and many opportunities to win prizes! We are looking forward to your entries!
Contest theme (all categories):
Light and Darkness
School Registration
School registration has finished. The submission deadline for entries is April 10!
November 1, 2022 – April 3, 2023, 09:00 UTC
Submission period
December 1, 2022 – April 10, 2023, 09:00 UTC
Winner announcements
Early July 2023 (tentative)
Link: https://www.clipstudio.net/promotion/comiccontest/en