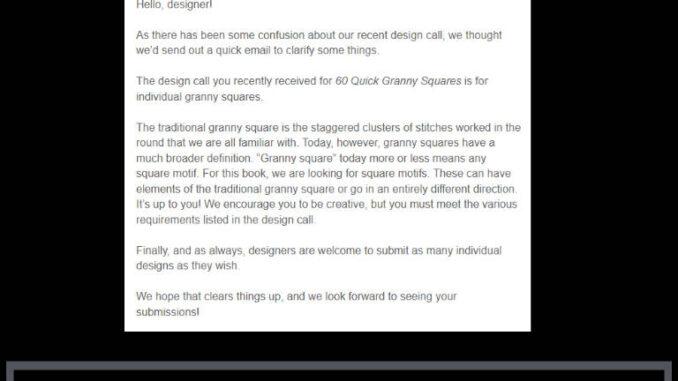 Here is an update from Vogue/ Soho Publishing regarding its request for "60 quick granny squares".
Read the press release
Clarification: 60 Quick Granny Squares Design Call
Hello, designer!
As there has been some confusion about our recent design call, we thought we'd send out a quick email to clarify some things.
The design call you recently received for 60 Quick Granny Squares is for individual granny squares.
The traditional granny square is the staggered clusters of stitches worked in the round that we are all familiar with. Today, however, granny squares have a much broader definition. "Granny square" today more or less means any square motif. For this book, we are looking for square motifs. These can have elements of the traditional granny square or go in an entirely different direction. It's up to you! We encourage you to be creative, but you must meet the various requirements listed in the design call.
Finally, and as always, designers are welcome to submit as many individual designs as they wish.
We hope that clears things up, and we look forward to seeing your submissions!