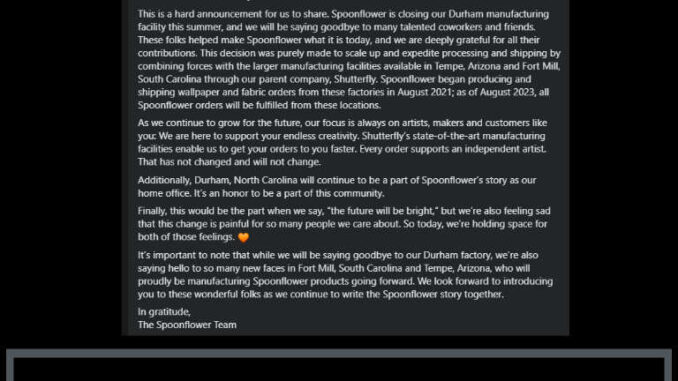 According to Spoonflower, it is closing its warehouse in Durham, North Carolina.
Read the press release
A Note to Our Community: This is a hard announcement for us to share. Spoonflower is closing our Durham manufacturing facility this summer, and we will be saying goodbye to many talented coworkers and friends.
These folks helped make Spoonflower what it is today, and we are deeply grateful for all their contributions. This decision was purely made to scale up and expedite processing and shipping by combining forces with the larger manufacturing facilities available in Tempe, Arizona and Fort Mill, South Carolina through our parent company, Shutterfly.
Spoonflower began producing and shipping wallpaper and fabric orders from these factories in August 2021; as of August 2023, all Spoonflower orders will be fulfilled from these locations. As we continue to grow for the future, our focus is always on artists, makers and customers like you: We are here to support your endless creativity. Shutterfly's state-of-the-art manufacturing facilities enable us to get your orders to you faster. Every order supports an independent artist. That has not changed and will not change.
Additionally, Durham, North Carolina will continue to be a part of Spoonflower's story as our home office. It's an honor to be a part of this community.
Finally, this would be the part when we say, "the future will be bright," but we're also feeling sad that this change is painful for so many people we care about. So today, we're holding space for both of those feelings.
It's important to note that while we will be saying goodbye to our Durham factory, we're also saying hello to so many new faces in Fort Mill, South Carolina and Tempe, Arizona, who will proudly be manufacturing Spoonflower products going forward.
We look forward to introducing you to these wonderful folks as we continue to write the Spoonflower story together. In gratitude, The Spoonflower Team