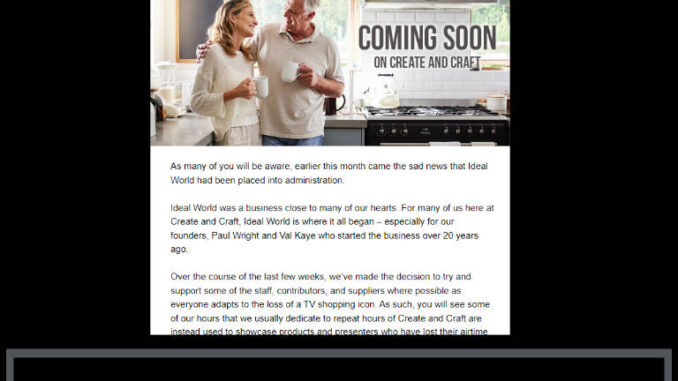 Here is a message from Create and Craft TV…
Read the press release
We have a special announcement! ????
As many of you will be aware, earlier this month came the sad news that Ideal World had been placed into administration.
Ideal World was a business close to many of our hearts. For many of us here at Create and Craft, Ideal World is where it all began – especially for our founders, Paul Wright and Val Kaye who started the business over 20 years ago.
Over the course of the last few weeks, we've made the decision to try and support some of the staff, contributors, and suppliers where possible as everyone adapts to the loss of a TV shopping icon. As such, you will see some of our hours that we usually dedicate to repeat hours of Create and Craft are instead used to showcase products and presenters who have lost their airtime in the collapse of Ideal World.
We will also be welcoming back some familiar faces that we are sure you will recognise. Please put your hands together for Shaun Ryan, Dennice Robinson, Hayley Green and Shaun Crawley.
"It broke our hearts to hear of Ideal World falling into administration. Anything I, and the Hochanda family, can do to help protect the careers and continue the legacy of those affected, we will. After all, we're all family in television shopping!"
We appreciate that as craft enthusiasts, these shows may not be your cup of tea, but we hope you will join us in supporting those affected where possible. As an incentive, we'll be enabling your Club and Freedom perks and discounts for these shows and their product lineups.
If you'd like to stay informed of these shows and launches as they happen, please click here to be added to our 'Shop Extra' mailing list. Please note that these shows will not replace any of the demonstrations and shows on Create and Craft that you love, and our library of content will still be available online, on your TV, and on demand via our app. Shop Extra will be live from 6pm every evening and you can watch us on Freeview 85 by pressing the Red Button on a connected Smart TV, Sky 680 until 10pm when we switch to Sky 673, or Virgin 748 and Freesat 813 until midnight.
TV shopping is one big family, and we hope you will join us in welcoming these new additions to the Hochanda Global team, the new home of Family, Friendship and Fun.