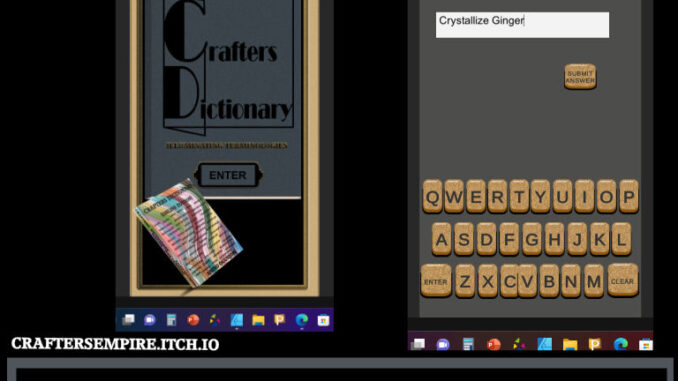 I am currently working on a word game that is based on questions and answers regarding the services and products in the Creative Industry.
For years now, I have been writing the online version of Crafters Dictionary on this blog and the crafters dictionary's website(I disabled the website for now). I have decided to turn it into a game to make it fun as well as educate while it enhances your knowledge of the products and services in the creative industry.
The game's title is "Crafters Dictionary". This game is based on how knowledgeable you are with the terminology used in the Creative Industry. You will learn about the terms used in the Creative Industry and many more.
For now, I won't say much detail about the game. I will do that in due time when I finish the menu and some little bits for the development log of the game are ready. I promise to update you when I progress to the next step and upload the prototype for testing.
This game is different from the game I did as a team member titled "Journey of Words". (https://craftersempire.itch.io/journey-of-words).
I have documented more than 500 questions already. I started with the Craft Sector from then I will progress to other sectors in the Creative Industry.
I am just trying to design the User Interface(UI) and enhance the User Experience(UX).
Also, I am trying to ensure that when the answer(text) is entered for the question, the game overrides the case sensitivity regardless of correct words.
I am still working on it and trying to think of more ways to enhance it.
Additionally, I will be documenting everything and this will be shared as a development log video later on when the game is ready.
Until then,
Happy gaming!