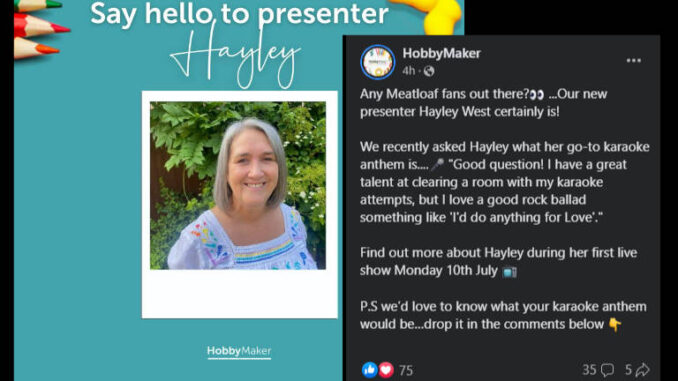 According to a post by HobbyMaker on its Facebook page, Hayley West has joined the channel, HobbyMaker as a new craft presenter.
Hayley West has just received a welcome post from HobbyMaker. She has resurfaced as a craft presenter on HobbyMaker after leaving Create and Craft TV
Previously, Hayley was a craft presenter on Create and Craft TV. She left Create and Craft TV in the month of May 2023 to do something else.
Read about it here on the blog… https://aninoogunjobi.com/2023/05/its-mic-out-for-craft-presenter-hayley-west-as-she-bids-farewell-to-create-and-craft-tv/
Read the press release.
Any Meatloaf fans out there?
…Our new presenter Hayley West certainly is!
We recently asked Hayley what her go-to karaoke anthem is….
"Good question! I have a great talent at clearing a room with my karaoke attempts, but I love a good rock ballad something like 'I'd do anything for Love'."
Find out more about Hayley during her first live show Monday 10th July
P.S we'd love to know what your karaoke anthem would be…drop it in the comments below