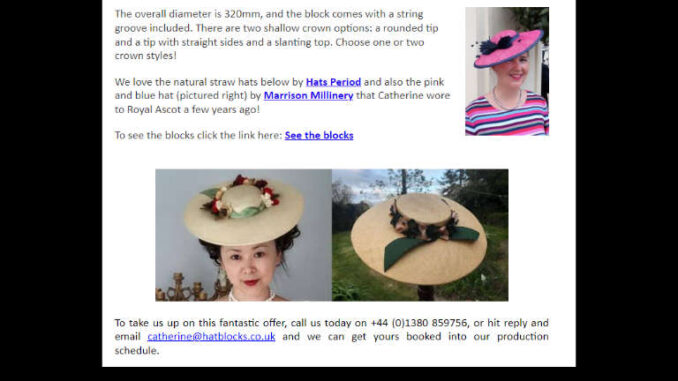 HatBlocks presents Crown and Brim Combo CB224 as the block for August 2023.
Read the press release
BLOCK OF THE MONTH – Crown and Brim Combo CB224
Every month you can enjoy 15% discount on one of our blocks and this month you can get a deal on this lovely perching crown and brim combo CB224 featuring two interchangeable tips. Choose ONE or TWO tips!
The overall diameter is 320mm, and the block comes with a string groove included. There are two shallow crown options: a rounded tip and a tip with straight sides and a slanting top. Choose one or two crown styles!
We love the natural straw hats below by Hats Period and also the pink and blue hat (pictured right) by Marrison Millinery that Catherine wore to Royal Ascot a few years ago!
To see the blocks click the link here: See the blocks
To take us up on this fantastic offer, call us today on +44 (0)1380 859756, or hit reply and email catherine@hatblocks.co.uk and we can get yours booked into our production schedule.
Link: https://www.hatblocks.co.uk/block-of-the-month-august-2023-cb224/