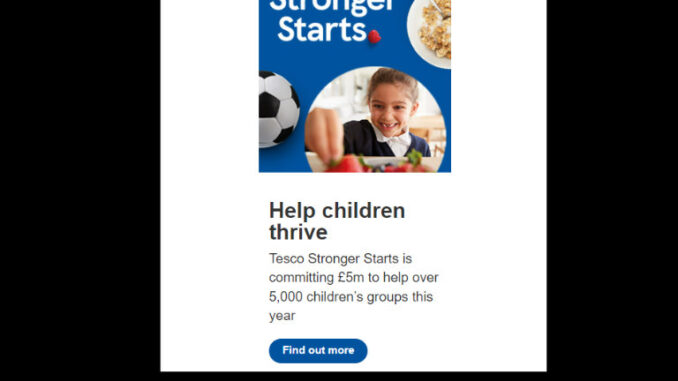 Tesco has encouraged customers to pick a "blue token" available at its till for the 5,000 thousand schools and children's groups that it is supporting with £5 million with regards to healthy food and activities.
Read the press release
Help children thrive
Tesco Stronger Starts is committing £5m to help over 5,000 children's groups this year
Help us give children stronger starts
We're introducing our new community grant scheme, Tesco Stronger Starts, with the aim of giving children across the UK a stronger start in life. In partnership with Groundwork UK, we're committing £5m in grants to fund healthy food and activities for schools and children's groups.
The need for our new scheme became clear after Groundwork UK's latest research found that 78% of schools are currently having to provide food for children from their own budget.
As a business that is at the heart of communities across the country, we know that urgent action is needed to support the development and prospects of young people.
Through Tesco Stronger Starts, over 5,000 schools and children's groups will benefit from the funding this year, which will help set up everything from breakfast clubs to football clubs.
To help children thrive in your area, please pick up your blue token at the till and drop it into the Tesco Stronger Starts voting unit next time you shop with us in-store.
Thank you for helping us support children in your local community.
Jason Tarry
Tesco UK CEO