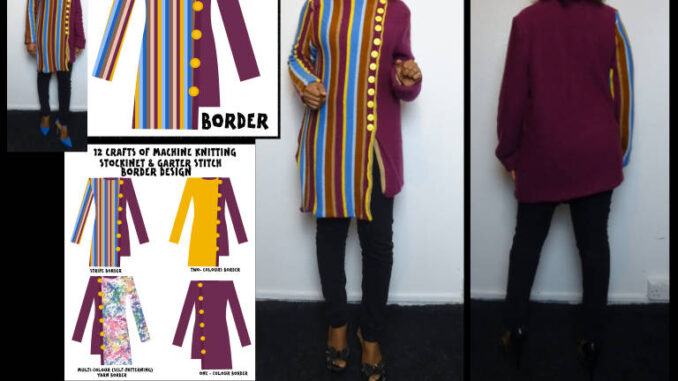 In this video, Anino designed a jacket with stripes on the right border of the jacket.
Part 2 of Season 1 Episode 1 -12 Crafts of Machine Knitting, The technique of stockinet, a focus on coloured yarns used as a border design is now available on Anino Ogunjobi TV YouTube.
About the Video.
In this part of the video, Anino teaches how to machine knit the designed asymmetrical stripe border jacket using the LK150 knitting machine.
*Machine Knit the asymmetrical jacket that we designed in the Standard Garment Styling Section and Original pattern drafting section of the DesignAKnit Software.
*Tips on making the buttonhole.
*Sewing the buttons.
*Tips on lining the jacket using a knitted jacket of the same size.
*Learn the tips and tricks of lining the stripe (and other stripe designs) so that the front and sleeve stripes fit properly.
*And many more.
Here is the link to Part 1- Designing the Jacket: