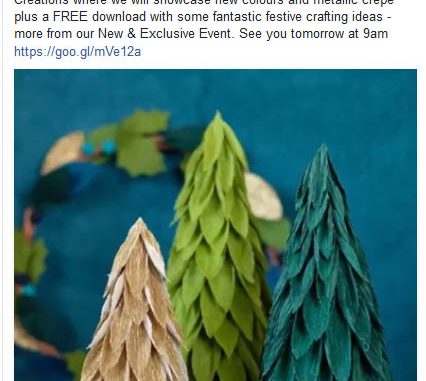 According to a post by Create and Craft TV on their Facebook page, Lia Griffith will be on the channel at 9am British Summer Time(BST) on the 27th of July 2017, demonstrating paper flowers using crepe papers and there is a free download.
See a screenshot of the post.
Have you ever crafted with crepe? Join us for our Lia Griffith Crepe Creations where we will showcase new colours and metallic crepe plus a FREE download with some fantastic festive crafting ideas – more from our New & Exclusive Event.  See you tomorrow at 9am https://goo.gl/mVe12a.
Watch Create and Craft TV on,
Have you ever crafted with crepe? Join us for our Lia Griffith Crepe Creations where we will showcase new colours and metallic crepe plus a FREE download with some fantastic festive crafting ideas – more from our New & Exclusive Event. See you tomorrow at 9am https://goo.gl/mVe12a

Posted by Create & Craft TV on Wednesday, July 26, 2017