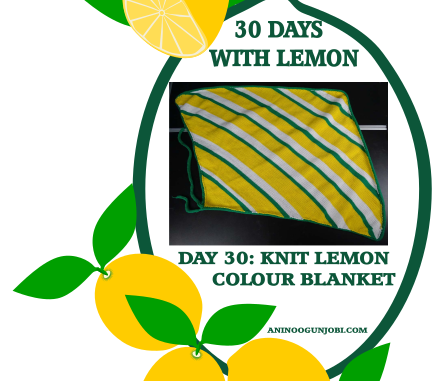 A lovely way of enjoying lemon is by using its colours in your projects like this machine knitted i-chord edged blanket.
This lemon coloured blanket has been knitted on the knitting machine and I-chord has been added to edge the blanket while it is being knitted on the knitting machine.
I knitted it diagonally but it can be knitted horizontally.
The technique can be used by hand-knitters and crocheters too.
I will put up the machine pattern when it is ready.
Here is a summary of how to knit the blanket
I am working on the video on how to knit a blanket with I-chord edging. I will upload it when I have completed it.  To knit this diagonal blanket, you will need to design two rectangles of the same size( desired blanket size) and then rotate one of the rectangles to 45degree. The other rectangle in a straight(horizontal) position is needed to calculate the numbers of rows to knit for the I-chord so that it fits the blanket.
To determine the rows to knit for the I-chord, add the stitches to cast-on, to the stitches to cast-off ( or multiply the stitches to cast-on by 2) and then add the numbers of rows- left and right side( or multiply rows to knit by 2 because of the left and right side) and then knit the I-chord to the sum total of all four sides of the blanket remove the I-chord from the knitting machine with a waste yarn.
To knit the blanket, use the I-chord to cast on your stitches and knit. On every two rows, pick a stitch from the I-chord and hang it on the right side of the last stitch and do the same on the left side before knitting. Repeat the hanging of a stitch from the I-chord on both sides of the knitting machine-last needle of the blanket until the final row has been knitted.
Hang the remaining I-chord before you cast off and then use the yarn colour of the I-chord to cast off. Hope this helps before I upload the video.
Remember that if you are knitting in diagonal you have to increase the stitches on the blanket before you hang the I-chord to edge the sides. You can also knit the blanket without rotating it.